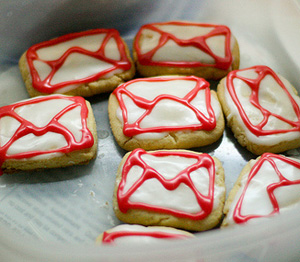 If you write several blog posts weekly for many years, you are very well aware of what "writer's block" means. It happens very often that you just need a couple of words, a single line of text to get inspired. But where to find those words?
To me keyword research and Google search has always been huge sources of inspiration. Whenever I have nothing to write about, I either start searching randomly using some wicked search operators or turn to one of my favorite keyword research tools.
Last week I randomly stumbled upon another cool way to get inspired: use your Gmail as your keyword research tool.
Now, that idea may seem a bit forced at first but what if we start thinking about it:
Gmail stores tons of relevant information. If you are interested in the topic or have expertise in it (or both), you are likely to be subscribed to at least dozen of related newsletters – that's a huge resource of relevant content weekly.
Gmail stores tons of relevant user-generated content. Again, being interested in some topic, you are likely to discuss it daily and at least 50% of the most substantial relevant conversation happens via email (which is again, Gmail for many people)
Gmail has killer search feature (Google is good at that stuff, you know) which can be further improved!
Just try it now. Pick a random search term, go to Gmail and try searching. Now scan through the search snippets (which are short extracts from your email containing your search term). Look how much keyword research help it can turn to be!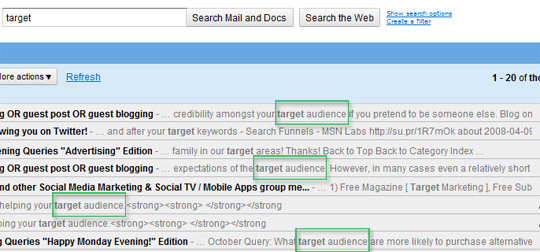 Now, let's try to have a bit more fun with the idea.
1. Highlight your search terms more vividly
If you have Google Toolbar installed (which you are very likely do), set it to search your Gmail and that will give you the way to highlight your search terms from the Google Toolbar: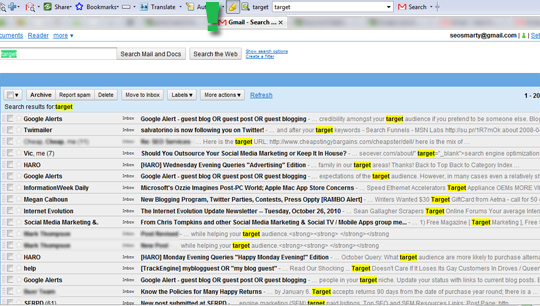 2. Search all folders
By default, Gmail will only search through Inbox folder. To make your search broader (and include Spam folder, for example, which can include various promotional emails that will turn useful for keyword research inspiration).
This Greasemonkey script will put 'in:anywhere' in your search requests to Gmail by default to force it to include all folders.
3. Make your search more targeted
Gmail labels can turn to be great help in using Gmail as keyword research tool. Let's say you have subscribed to a number of email newsletters but don't want them to clutter your email inbox (and/or want to be able to search within these emails only).
All you need is to go to Gmail settings and create a new filter by the sender's email address (or addresses):

In the second step you can set all those emails to skip the Inbox (wile still being available for searching) and create an easy-to-remember label to organize them: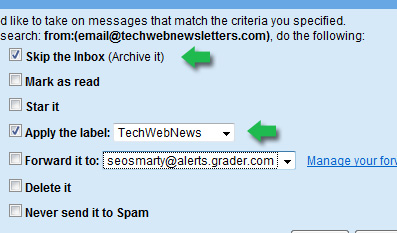 Now, whenever you want to search within the "TechWebNews" folder, just use label:techwebnews in the search field!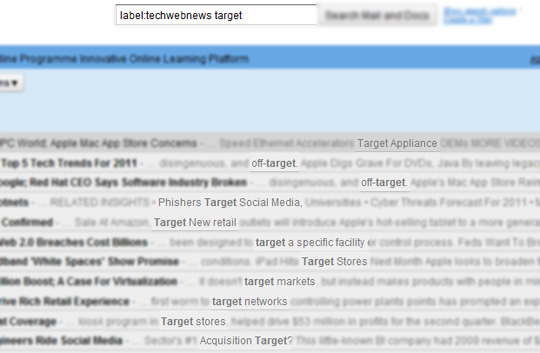 This could work for Google Alerts, Twitter Alerts and many other community updates you need (like LinkedIn groups alerts for example).
4. Gmail Advanced Search!
Don't forget that Gmail is Google's service – so it has a great advanced search platform. Some of the most useful (in this case) Gmail advanced search options include:
[-word] to exclude any word from your search;
[subject:word] to force any word to appear in the email subject
"Date within" feature available in "search Options" that allows to control how fresh the content is going to be: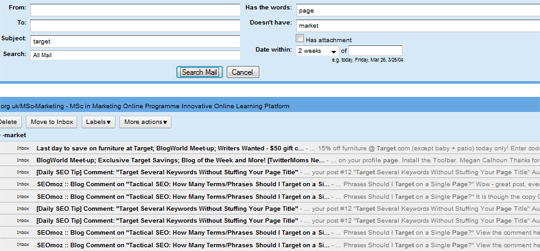 5. How far can we go?
If we think about it, email search can turn so useful!
Subscribe to your competitors' email newsletter, filter it with Gmail label and check which keywords they tend to search and how.
Subscribe to Twitter alerts via email and track which words your base term tends to appear with;
Subscribe to Google alerts and search most instant Google results and search within them.
You name it!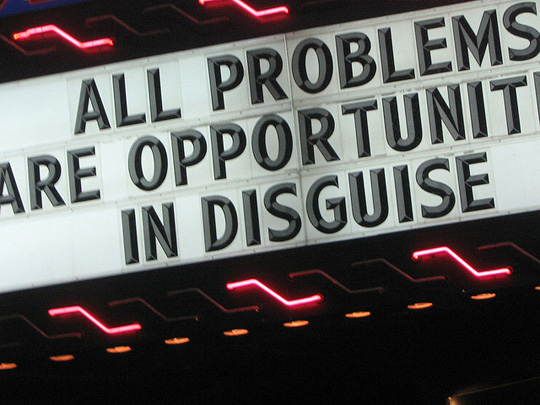 Post images via opacity and DonnaGrayson
The following two tabs change content below.
I am the owner of this blog as well as Brand and Community Manager at Internet Marketing Ninjas and Founder of MyBlogGuest, MyBlogU and
ViralContentBee.com
Latest posts by Ann Smarty (see all)