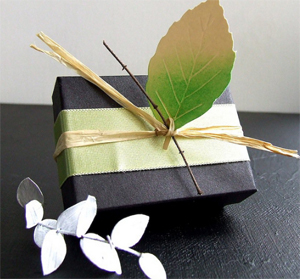 Your best content doesn't have to live only once. If you have managed to create something awesome that resonated with the audience, go ahead and make the most of it.
Re-purposing or re-packaging an article means giving it another form and format based on the exiting content and research. By re-packaging, you spread your article even further. You expose it to new audiences; you allow to download it and save for further reference.
Repackaging is one of the most powerful content marketing tactics. It does require time, effort and inspiration but it pays back with more exposure, links and recognition. This post is about different ways to re-package your content to give it wings. This post means to inspire.

1. Presentations
You can turn almost any article into the PowerPoint presentation:
Collect all the screenshots and put them into a pretty slideshow;
Turn your list part into an appealing presentation;
Create an easy-to-digest summary of your article (move the key points into the presentation);
Move any statistics data or case studies you are mentioning to the presentation (to make your point clearer); etc
Tools to promote:
| | |
| --- | --- |
| Slideshare | Social media friendly: LinkedIn and Facebook applications (presentations are easy to promote); Huge community (more exposure). |
Helpful tips!
If you consider using SlideShare to expand your content reach, be sure to go through these tips on promoting your presentations on Slideshare. Some most useful tips include:
Don't forget your keywords (and put them in tags and presentation title);
Take part in SlideShare contests (like this

World's Best Presentation Contest)

Create a group that's exclusive to your brand and advertise your product or services
Integrate some sound into your presentation with

Slidecasting

Launch a channel (Check out some of the newest channels and contact SlideShare for details on how to get started.)
Example?
Back in 2008, when I was doing my very first guest post for SEJ, I got so excited that decided to find a prettier way to share my guest post with my personal blog audience. So I came up with the short but pretty (and surprisingly well-branded) presentation to embed to my blog:
2. eBooks and PDF's
Like with presentations, you can always re-package your content into PDF's to let users download it and view on iPad, share with friends and save locally for further reference:
Re-organize your tips into one-page cheat sheet;
Re-arrange your article to create a mini eBook;
Interview a few really prominent people on the topic of your post and collect the interview into an eBook;
Collect related statistics to create a white paper.
Best tool to promote:
| | |
| --- | --- |
| Scribd | Heavy Facebook integration (login and reading recommendations via Facebook) which gives your content more social media exposure; Huge community. |
I have a larger list in this post on sharing your (SEO) documents. There are also eBook sharing and reviewing sites like GetFreeEbooks you can try to use to increase exposure of your content.
Here's also a very sweet tip on how to promote your eBook which I thoroughly enjoyed because it is very practical and genuine. Here's an excellent article on eBook revolution from DirJournal web directory.
With marketing automation platform like GetResponse you can also turn your how-to article into a series of emails targeting your readers who chose to download the PDF guide.
Example?
I have mentioned this in my 3-R post, but I decided to include it here just because I really enjoyed the execution. Allison Boyer re-crafted her The 12 Days of Blogging 2010 series into an appealing eBook: each page of the eBook is dedicated to one prominent blogger with the citation from his article and Allison's comment below it.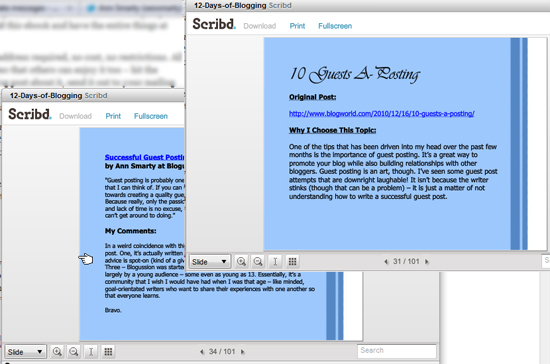 3. Cheatsheets
If you want to give your content some huge exposure, consider creating a useful cheat sheet or a quick-reference guide – that always results in insane popularity because people love sharing and printing out cheat sheets that offer an easy way to remember and use complex guidelines.
Tools to promote:
| | |
| --- | --- |
| Quickly Code | Internet (including HTML, search and typography) |
Note: Cheat sheets are very easy to promote via blogger outreach. Most bloggers (including myself) love sharing and creating round-ups of relevant and useful reference guides – so just take some time looking for such bloggers in your niche.
Example?
Ian Lurie did an awesome guest post at Moz and then followed up with this equally awesome Google Analytics Cheatsheet containing both basic and advanced tips on setting up the proper tracking. Obviously, he now owns Google SERPs for [Google Analytics Cheatsheet] term and also enjoys plenty of backlinks naturally flowing in (including mine):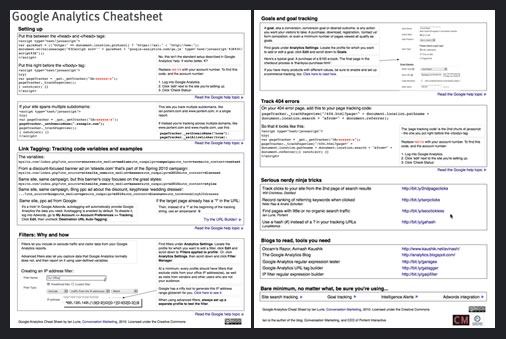 4. Screencasts
If you (like myself) tend to shy away from creating a screencast, let me tell you that today it seems to be as easy as making a screenshot:
Here's one fun free tool I shared previously that makes screencasting fun.
You can convert your PowerPoint presentation into a video as well!
By creating a screencast showing what you are explaining in the post you will cater for "visual learning" part of your audience. Besides, you'll be able to increase your content exposure to highly popular online video sharing websites.
Tools to promote?Video sharing websites are plenty. Of course, I suggest focusing your efforts to max 5: you will get extra exposure only if you develop and promote your profiles at the selected video sharing websites (instead of trying to distribute your video to hundreds of them). Video social media websites work like any social networks: you need to commit to get noticed there!
5. Infographics (and Other Image Content)
If you take time creating some pretty charts, venn diagrams or other types of infographics, be sure to promote those separately.
Here are some free tools to help you quickly create useful infographic. Here are also a few great data visualization WordPress plugins.
But not only infographics are worth sharing. If you have created a good collection of screenshots, for example, share and promote your collection as well!
Best tool to promote?
| | |
| --- | --- |
| Flickr | It is fairly easy to get ranked high in Creative Commons search results. |
There are many cool ways to promote an infographic. Also learn how I promoted my infographic here. Don't forget to use best image SEO practices to generate extra organic visibility from Google image search and Google's image carousels.
Example?
When I was launching MyBlogGuest, it struck me that not all people actually were familiar with the concept of guest blogging, so I created a short intro to explain what it was all about and one of our members did a great job visualizing the concept through infographic (which became a powerful independent piece of content).
Do you re-package your content? I'd love to know your tips and favorite tools!
cc licensed flickr photo shared by balanced.crafts
The following two tabs change content below.
I am Ann Smarty, owner of SEOsmarty.com. I've been in the SEO industry for two decades. I am the former Editor-in-Chief of Search Engine Journal and a contributor to Mashable. These days I am running Viral Content Bee and writing for Moz, Buzzsumo, Wix and many others!
Latest posts by Ann Smarty (see all)