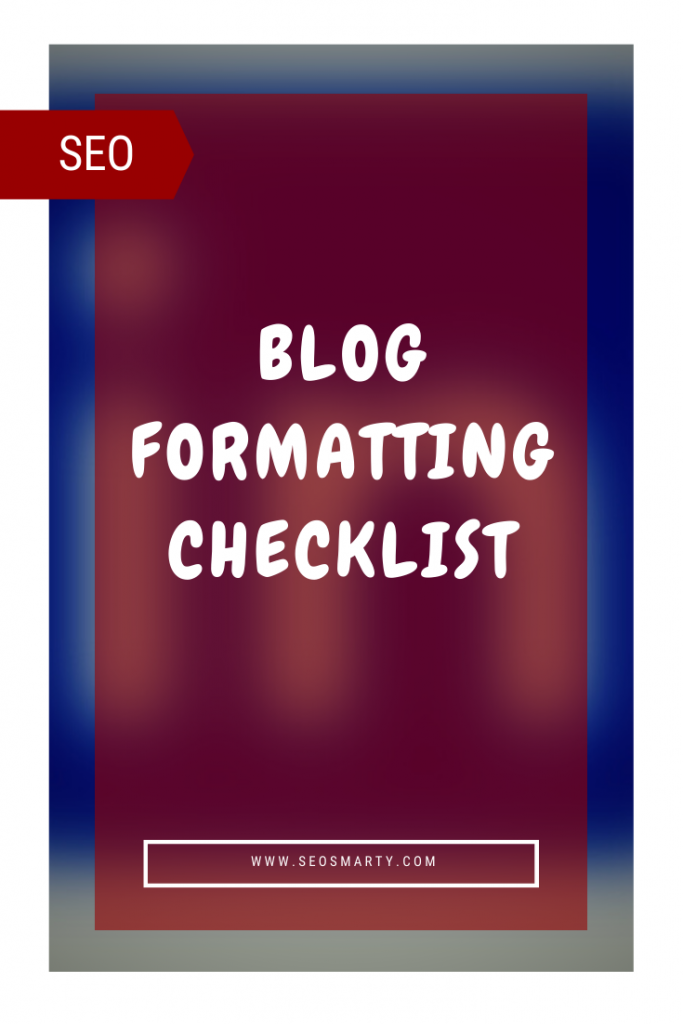 One thing I have clearly realized while being a full-time blogger and editor is that most writers (no matter how much we love them) are terrible at formatting.
I mean, I get it.
Writing is a creative process, and things like formatting, interlinking and proofreading may keep you from letting your creativity flourish.
One workaround is hiring a VA but if you have control issues (like I do) and still want to do everything on your own, here's a free blog checklist that's easy to follow and help you publish a perfectly formatted article each time!
A good formatting checklist should be:
As short as possible (The longer it is, the more chances there are that none of your contributors will follow all the steps);
As concise as possible (Avoid explaining the reason why you want it to be formatted that way. The more you explain, the less obvious your point becomes. Just list your requirements)
As easy to understand as possible (Add a few screenshots, bold most important points, etc).
Feel free to make yourself a copy of this checklist, edit minor details (like the preferred width of images) and use it to edit your blog. It will be suitable and (hopefully) useful for.
A single-author blog for consistency
A (business) blog with multiple co-authors;
A business managing multiple paid contributors;
A business owner outsourcing content to ghost writers, etc.
Attention: This guide requires that your blog contributor has a wp-admin (Contributor) access to your blog. Otherwise, you may ask to send you the articles in HTML.
*Make a free copy of the checklist here. Read some explanations below*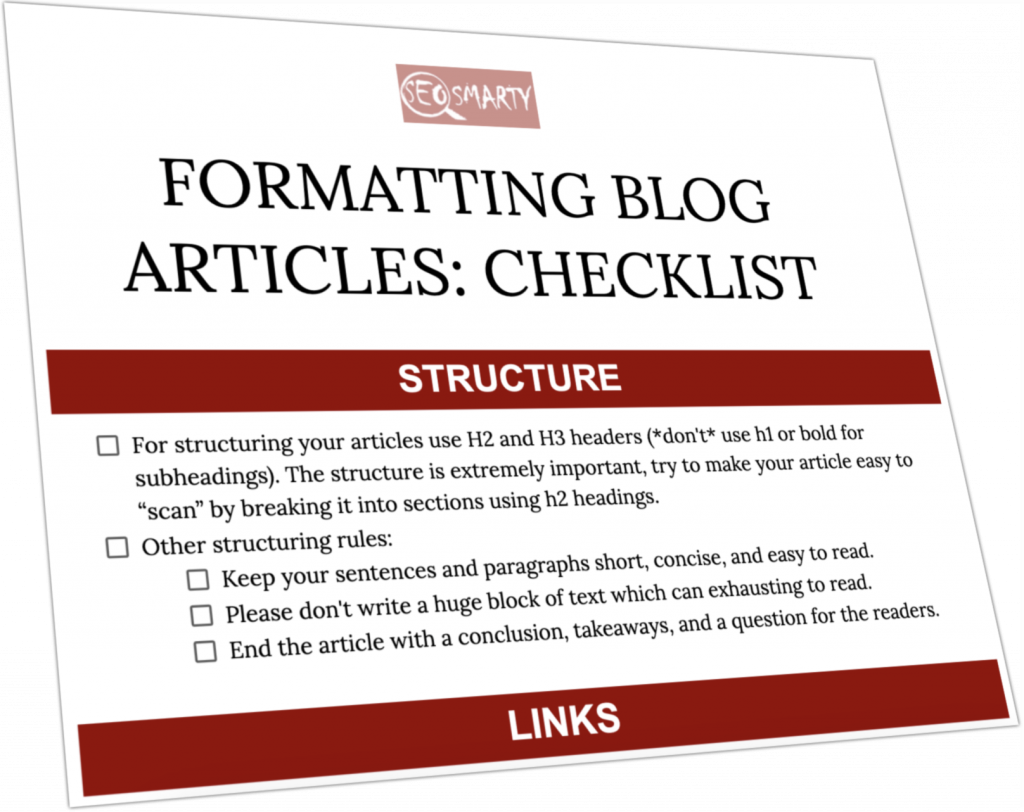 Structuring Standards
We know that breaking the article into sections is very important: blog readers tend to scan through the articles jumping from a subheading to a subheading (and probably reading the sections that seem most relevant to them).
One of the most efficient ways to capture your readers' attention is to provide catchy subheadings that would summarize your article content nicely. Ideally, the reader of the article should understand what it is about by just scanning through the subheadings which should effectively summarize the article content while still encouraging the reader to go more indepth.
Other important guidelines that (may) go in this section:
Make your sentences and paragraphs short (that makes the whole article easier to read)
Introduce your article effectively in the opening paragraphs and encourage a discussion in the conclusion (by asking some questions)
Adding Links
Links are always great (unless links are brutally self-serving and anchor-text-dirty). I always encourage all my authors include links to any app, business or person they are mentioning. Links are user-friendly, so in my guidelines I always prompt contributors to:
Link to relevant articles on my blog;
Link to others relevant articles elsewhere (as well as sources of information, apps, etc)
Normally link words (not image files or subheadings)
Always make sure they are using the full URL and the original "clean" link (now a shortened version, stripping all tracking parameters, etc).
Lists
Including lists is also highly appreciated. A well-formatted list is likely to draw readers' attention and make them stay.
Sadly, contributors tend to format lists in all possible ways using -, *, or any other inappropriate symbols instead proper <ul><li> coding. Therefore it's a good idea to remind them of proper formatting here.
Images
Another very important element of any blog post. Images will never be added unless you clearly ask for them.
Here I specify the proper style and size of the images as well as encourage authors to include a relevant, catchy and properly attributed Creative Commons image.
Here are more checklists you may find useful for blogging:
FAQ: Blog Post Checklist: Check All Prior to Hitting "Publish"
What is the purpose of the blog post checklist?
The blog post checklist is designed to help bloggers and editors publish well-formatted articles consistently, without having to compromise on the creativity of the writing process.
Who can benefit from using this checklist?
The checklist can be beneficial for a range of people including single-author blogs, multi-author business blogs, business owners outsourcing content to ghost writers, and businesses managing multiple paid contributors.
What are the key components of the checklist?
The blog post checklist focuses on:
Structuring standards (including catchy subheadings and succinct paragraphs)
Proper linking to relevant articles and sources
Creating well-formatted lists
Adding appropriately styled and attributed images.
How should the article checklist be crafted?
The checklist should be as short, concise, and easy to understand as possible, with important points highlighted, possibly with the use of screenshots.
How can readers access the checklist?
Make a free copy of the checklist from the link and modify it according to their preferences and needs.
If you find the guidelines useful or have any improvements to suggest, please comment below!
The following two tabs change content below.
I am Ann Smarty, owner of SEOsmarty.com. I've been in the SEO industry for two decades. I am the former Editor-in-Chief of Search Engine Journal and a contributor to Mashable. These days I am running Viral Content Bee and writing for Moz, Buzzsumo, Wix and many others!
Latest posts by Ann Smarty (see all)