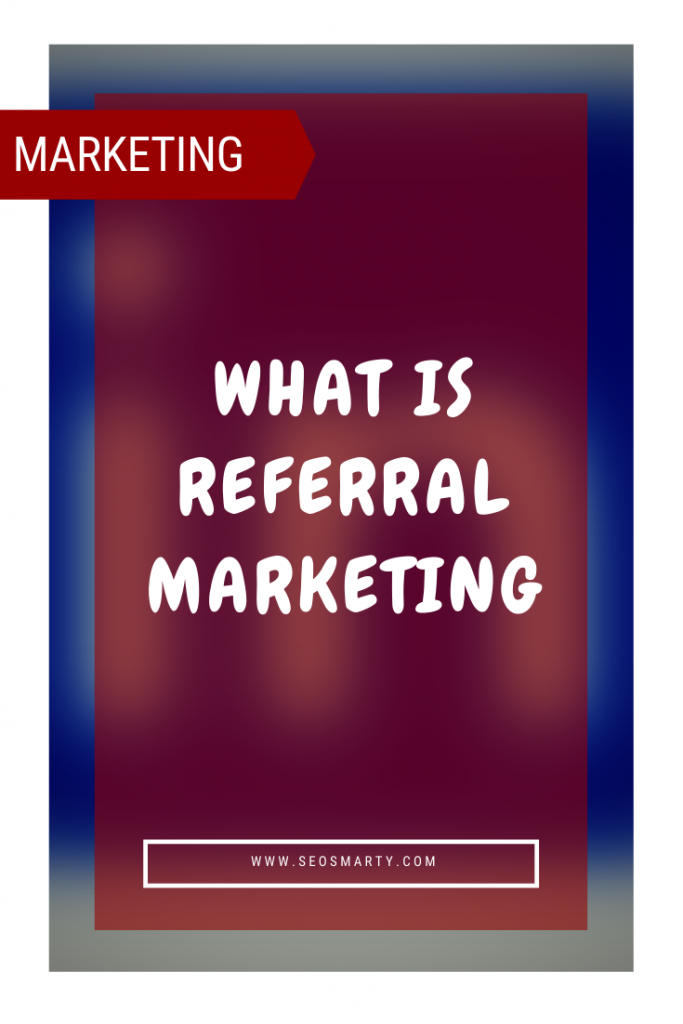 Winning more sales ultimately comes down to trust.
The prospective customer has to trust that your product or service is valuable and that you're honorable enough to not sell them something they don't need.
The way to win trust only comes in three forms:
You've built trust by getting to know who you're selling to and showing them that you're invested in their success.
Your brand has enough reputation in the market to warrant widespread trust.
You get an extension of trust by getting your product or service recommended by someone they trust.
In this article, we'll talk about the third option and show you five ways to deploy referral marketing strategies and ultimately close more deals:
What Is a Referral Marketing Strategy?
A referral marketing strategy is a marketing tactic that enhances your company's ability to spread word of mouth about your products and services and receive more recommendations. It's a competitive advantage that extends the reach of your marketing efforts beyond your own efforts.
Referrals are a great way to get the word out about your product or service, whether you're a SaaS company or an e-commerce site. People tend to share what's useful and makes them look good. They want to be seen as someone who has good taste, cares about their peers, and provides practical value. Referring to great products and services is one way to do that.
The hard part about marketing is getting people's attention. It's a noisy world full of too many great Netflix shows and products and services. We can't buy everything and can't watch all those shows. We have to find ways to filter out the noise. Getting recommendations is one way to do that, which is why referrals can be an integral part of your marketing strategy.
5 Referral Marketing Strategies That'll Help You Win More Sales
There are a lot of referral marketing strategies out there that can extend your reach and ensure that you're giving your company the best competitive advantage. Here are a few that'll help you win more deals:
1. Host a Free Event for Customers
Doing something exciting for customers will always improve your retention rate. But how does it improve your referral rate?
When you provide that free perk, make it a "plus one" affair. That way, they're encouraged to bring someone who isn't a customer but could potentially be one. You get a chance to have a captive audience full of like-minded people ,and hopefully an opportunity to convert them to paying customers.
Digital events work just as well. You can host a seminar that's paid but offer free invitations for current customers to give to friends, colleagues, or family.
2. Automate Your Ask
If you rely on your marketing or sales team to do it, you'll see some decent results, but finding ways to automate asking for referrals is the secret sauce. It starts with doing a little research to figure out the prime time to ask for referrals.
From there, it's as simple as sending out an automated email to each new customer asking them to forward this email to someone who might be interested.
The easier you make it for people to refer to you, the more likely it is that they'll do it. Creating a simple referral link that they can copy and paste works wonders. Or take it another step further with a button that has a pre-written message typed up outlining the benefits of your service. Then they literally just have to decide who to send it to.
3. Maximize Your Incentives
Sometimes it's enough to ask people for referrals, but why not boost your chances by offering an incentive? That could mean something as small as giving them a credit on their account for each referral that signs up.
It could also mean that they get a cut of the first deal or monthly subscription cost if you're offering a service. As Content Mart rightfully stated,
The better your incentive, the more likely it is that customers will go out of their way to tell their friends, family, and colleagues about you.
4. Harness the Power of Reciprocity
The "law" of reciprocity essentially says that when you do something nice for someone, they're more likely to develop an urge to return the favor and do something nice for you.
With referral marketing, you could evoke this urge by giving your customers or prospective customers a gift. It could be tickets to a concert or a sporting event. Perhaps something simple like a branded coffee mug or coupons to their favorite shopping store.
You close the deal, offer up a gift or kind gesture, and ask for a referral. If you find something that works well, then make it part of your sales plan and automate it. Build it right into the sales process and go even bigger for those that actually send a referral your way.
5. Take a Leap of Faith
Of the many popular sales closing techniques, none stands the test of time better than simply asking for the sale. That's right. Sometimes the best strategy is asking your prospect if they'd like to make a purchase today. Or sometimes assuming the sale by asking, "how do you want to make your first payment?"
Turns out, that's equally true for asking for referrals. Sometimes just asking is all it takes to get one. And if you do it consistently enough, the odds will stack in your favor. It could be an automated email like above, but sometimes a personal touch like a phone call or an in-person meeting works better.
What works especially well is being specific with your request. Swap "would you consider sending me a referral?" for "who else do you know that would benefit from our product?"
The strategies you can deploy to maximize your chances of getting a referral are endless. The best advice we have to offer is to pick one and stick with it for a while. Testing your efforts will help you truly understand what works, what doesn't, and will ultimately help direct your investment the best.
3 Real Life Examples of Successful Referral Marketing Campaigns
1. Lyft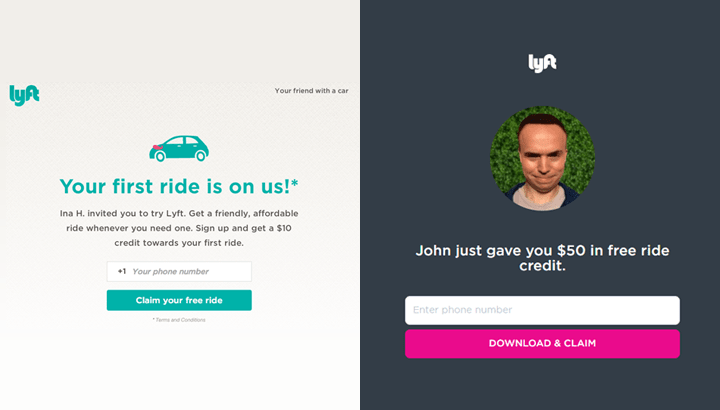 Lyft's referral marketing strategy is a perfect example of what it takes to spread word of mouth from current customers. Lyft incentivizes current customers to refer their friends and family members by offering up free ride credits.
The company also markets itself through features such as the ability to share riders' ETA with other non-customers, as well as locating lost or left-behind items. Lyft further incentivizes newly referred customers by offering up free rides when they sign up, regardless of whether or not they use a friend's referral code.
2. Dropbox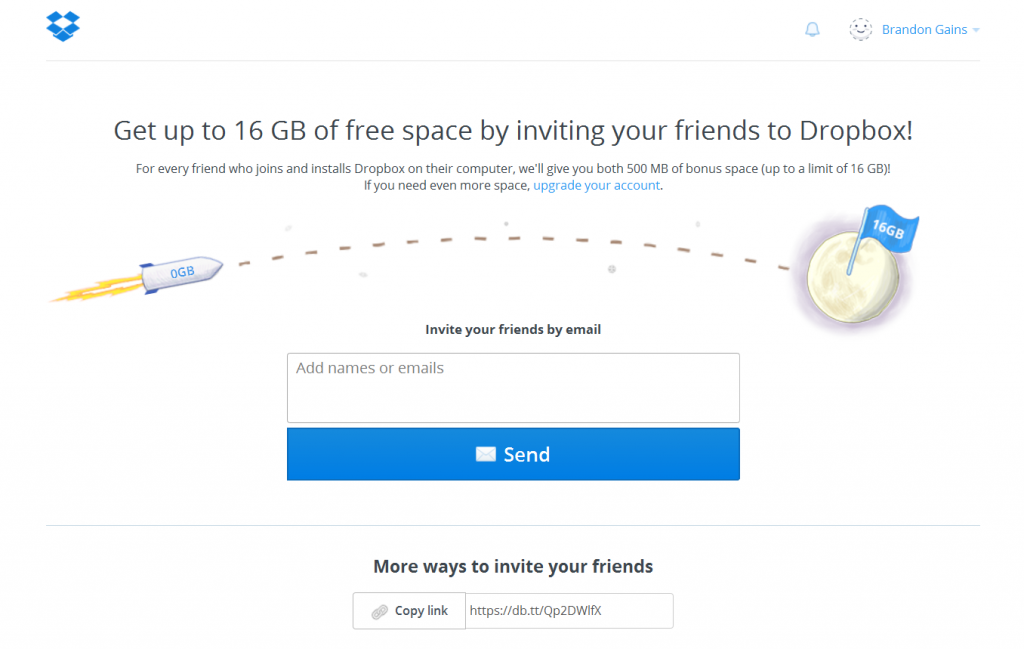 Dropbox puts their referral marketing strategy into the hands of its customers by offering up plenty of incentives in the way of additional cloud storage space. Dropbox Basic accounts are awarded 500 MB per referral and can earn up to 16 GB of additional storage, while Dropbox Plus and Professional accounts can receive 1 GB per referral and can earn up to 32 GB of free storage.
Customers can even track the status of their own referrals that they've sent, which allows them to have the ability to follow up with anyone that they've sent an invitation to without Dropbox ever being directly involved.
3. Tesla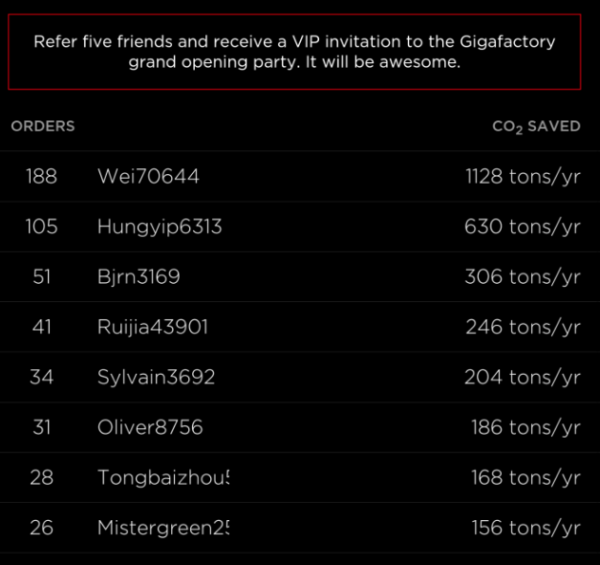 Tesla's overarching goal is to "build the best clean energy products", and its referral program goes hand-in-hand with that objective. Current customers can share their referral link via the Tesla app, which – like Dropbox – allows them to track the status of their sent invitations as their Loot Box rewards.
Rewards include 1,000 miles of free Supercharging with the purchase of a new Tesla car for both the referrer and the new customer, a $100 reward for the activation of a new solar energy system or Solar Roof, as well as a $400 award for each solar referral. A Powerwall can be earned for the referral of 10 solar customers, which is more than a lucrative enough incentive to keep current customers referring potential new customers.
4 Tools Companies Can Use for Referral Marketing
Getting starting with a referral marketing program can seem like a daunting task – but it doesn't have to be. There are plenty of available tools that allow you to hit the ground running with your referral marketing strategy, all of which allow you to customize and configure your program as much or as little as you want. Here are a few solutions to check out:
Referral Factory
Website: https://referral-factory.com/
Price: 15-day free trial, then from $95/month
Designed for small to medium-sized businesses, Referral Factory makes it "easy for any business to build their own referral program." You're able to choose from 1000+ referral program templates, or create your own with your company's branded colors and logo. Just set up your rewards, and you'll be set to track your referral campaigns in real-time. This is a great tool to start your own affiliate marketing program.
Friendbuy
Website: https://www.friendbuy.com/
Price: 30-day free trial, then from $249/month
Friendbuy believes that "referrals are your best channel for dynamic business growth", and puts its money where its mouth is with its refer-a-friend program. Automated rewards fulfillment and A/B testing are just some of the features that Friendbuy provides, with the ultimate goal being marketing your company through customer engagement and word of mouth.
Ambassador
Website: https://www.getambassador.com/
Price: Unavailable
Ambassador allows you to turn your best customers into brand ambassadors by segmenting them into categories such as "customers, affiliates, influencers, partners, employees, and other advocates." These roles are incentivized and tracked in real-time, allowing you to make the most of your referral program while further understanding who your customers are and creating more opportunities for engagement.
Mention Me
Website: https://www.mention-me.com/
Price: Unavailable
Mention Me aims to drive referrals throughout the entire customer journey, incentivizing current customer referrals whether they are new happy customers, or long-time, repeat customers. With reporting and analytics tracking your customers' purchasing behavior, you'll have plenty of actionable insights to pull from.
Think back to the last time you referred someone to a product or service. What was it? How did you tell them? Share your findings in the comments below:
The following two tabs change content below.
Sujan Patel
Sujan Patel is a partner at Ramp Ventures & co-founder of
Mailshake
. He has over 15 years of marketing experience and has led the digital marketing strategy for companies like Salesforce, Mint, Intuit and many other Fortune 500 caliber companies.
Latest posts by Sujan Patel (see all)