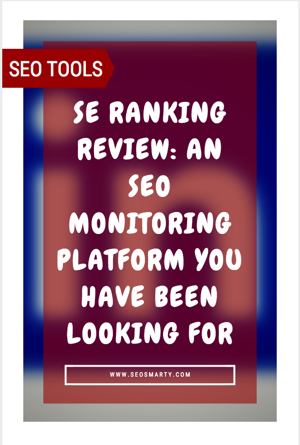 I don't do tool reviews often, so you know if I am taking the time to share one, it must be worth it!
In this article I am going introduce you to a pretty awesome SEO dashboard called SE Ranking.
The platform has a gazillion of features, so I am not going to describe all of them (it is hardly possible) but I'll introduce you to my favorite ones, those that are particularly nicely done.
Rank Monitoring Feature
I've tried so many rank monitoring and SERP tracking solutions I can hardly count any more. I think the one provided by SE Ranking is probably the most user-friendly one.
When it comes to position monitoring, there's a lot to keep an eye on. Not only you are likely to have to keep an eye on hundreds search queries per project, each keyword is not created equal. All the search queries differ in search volume. Besides, dropping from #1 to #2 makes a HUGE difference, when it comes to click-through.
So how to possibly keep track of everything?
SE Ranking is doing a pretty solid job keeping you informed of your overall organic search visibility as well as letting you dig deeper whenever you want.
Start with "Overall" Tab
This section gives you a birds-eye view of your progress. See your "average" position visualization:

As well as your organic traffic forecast: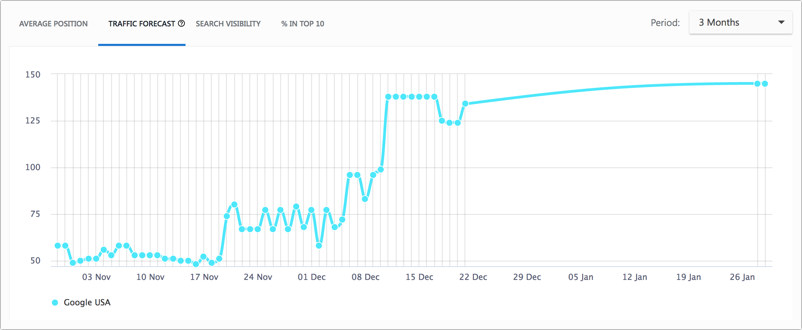 And finally, take a look at a more detailed chart showing your recent organic position movements: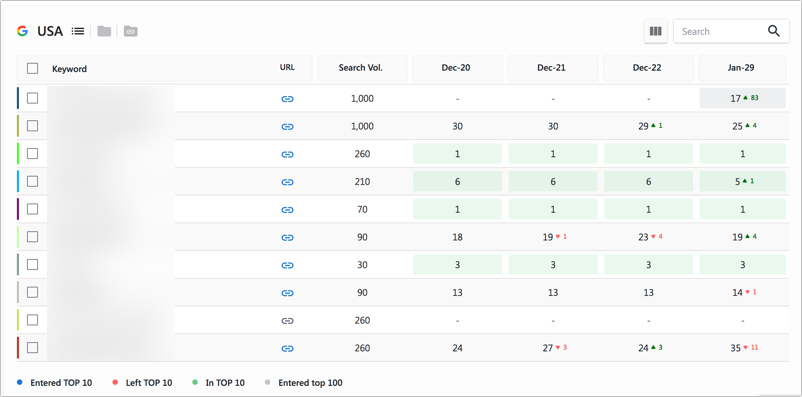 Whether you are monitoring 20 or 2000 search queries, these section will give you a good idea of where you are at.
Look at Your Positions in "Extra" Search Elements
On top of that, the tool is also tracking all kinds of additional search elements, beyond organic listings. These include:
Featured snippets (also known as answer boxes)
Local pack
Video carousels
Top stories
People Also Ask
Images
Knowledge graph
Shopping results, and more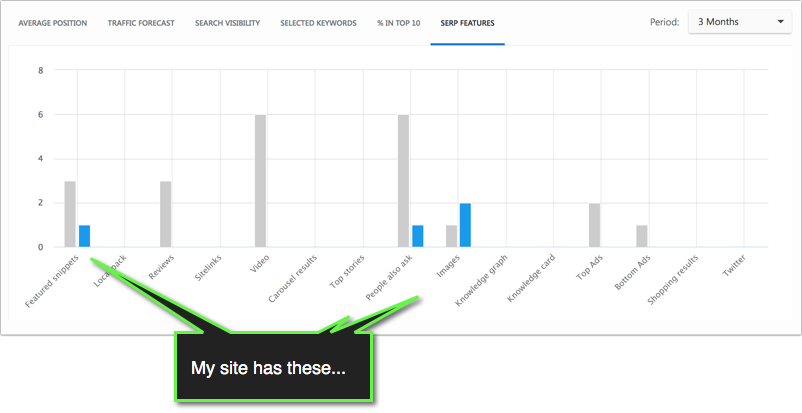 This was a pretty exciting discovery: Not many rank trackers monitor anything beyond organic positions!
And I should mention that SE Ranking's rank checking algorithm is pretty accurate, as I am able to compare it with other tools I am running. Just make sure to select the search engine and the locale you are interested in (here I am monitoring Google US).
Dig Deeper and See SERP Snapshots
Now, on top of the general overview, SE Ranking allows you to dig deeper. For example, for any query you can get a clear list of your current organic competitors together with some basic stats for each site (like Alexa rank and number of backlinks):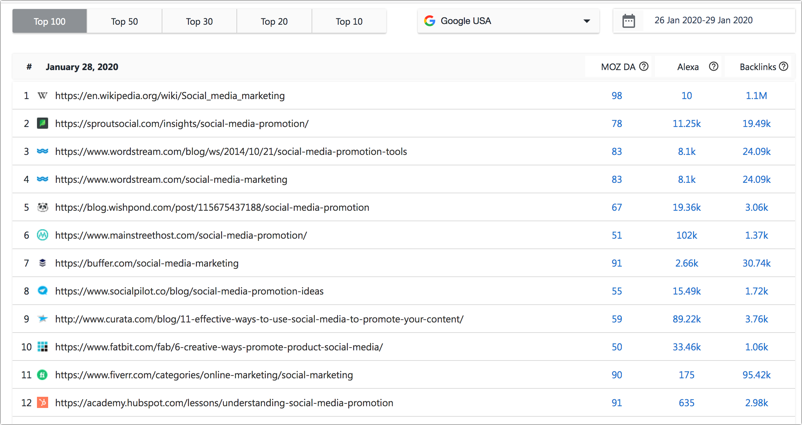 [View some quick info on your organic competitors]
There's also a way to view a snapshot of search results on each tracked day: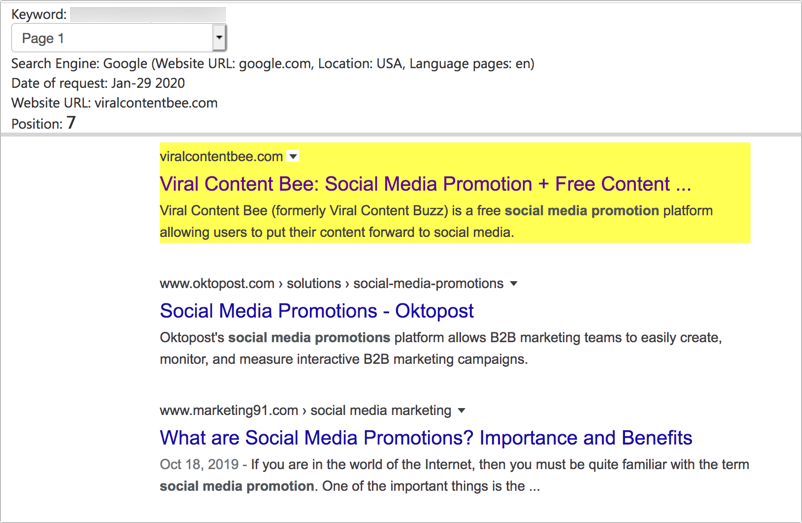 Organize Your Search Queries by Search Intent and More
You can also organize your keywords using tags which I have found absolutely GOLD for monitoring my high-intent queries: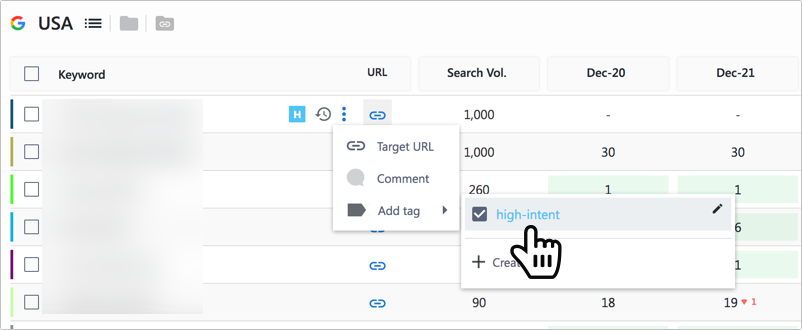 [The tags are also color-coded helping you identify your keyword groups easier. More control over your organic visibility data!]
Possible labels which you may want to add include:
High-intent
Branded search
Blog / content based / informational queries
Newly discovered, etc.
Overall, where this monitoring solution really shines is its ability to make loads of data easy to view, organize and assess.
Backlink Monitoring: Make Sense of Your Link Profile
SE Ranking backlink monitoring solution looks pretty awesome for analyzing and monitoring your Google's Search Console data.
Google's Search Console's backlinks are notorious for making data absolutely useless. It is so bad that I have my own theory that Google is doing it on purpose, i.e. to mess with us.
I mean if Google wanted to be helpful, surely it would only show us backlinks that matter (i.e. those that have any impact on the rankings). But nooo, they would include nofollow and deleted links making it next to impossible to find solid backlinks we do need to be aware of.
In other words, Google is forcing us to use third-party tools to make at least some sense of the data they provide.
Which is where SE Ranking comes in handy: Connect your Google Search Console data and watch the tool will:
Date all your links for you to find fresh ones
Pull Alexa data (which is helpful as it allows you to determine backlinks may be driving traffic too)
Extract your link anchor text
Mark links as nofollow or Not Found
Check if Google has indexed the page with your link on it
Find Facebook shares for each linking page (which is a good signal of whether the linking resource is real)
Show you where the linking site is hosted
You can also remove all links that you are currently disavowing which is super helpful.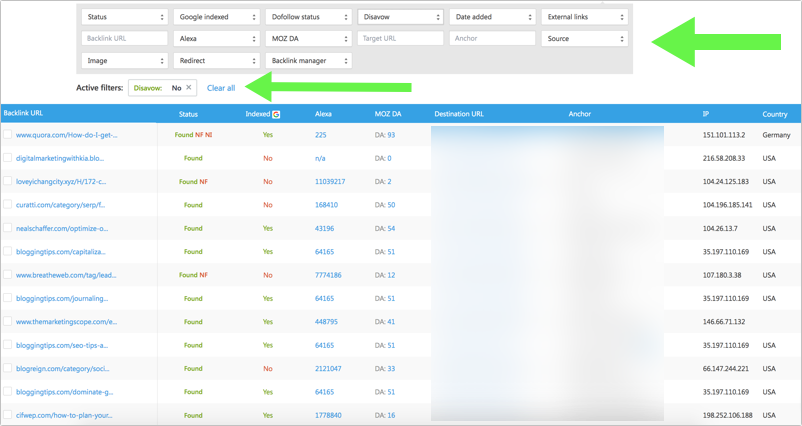 Additionally, you can specify the source of each link (e.g. your specific outreach campaign, or your link acquisition method). This is helpful when you have enough data to go through. It also helps to further make sense of your backlink profile.
Website Audit: See Advanced Crawl Results
Whenever I am experimenting with a new SEO tool, I don't pay much attention to a website audit section, simply because I have my own set process and these analyses are mostly higher-level than I need to.
SE Ranking does offer a few unique features which I was pretty impressed with, so I am making an exception here.
First of all, I love the "Crawled pages" tab which is more like advanced crawler results rather than your common SEO audit report. It will pull all the crawled pages and build a chart showing all kinds of numbers and stats next to each page:
External links going from each page
Internal links pointing to each page
Status code
H1/H2/H3 subheadings
Amount of text and linked content
Title tag and meta description
And much more…
You can use and combine all kinds of filters to slice and dice your data to find SEO issues and groups of pages you need to pay attention to: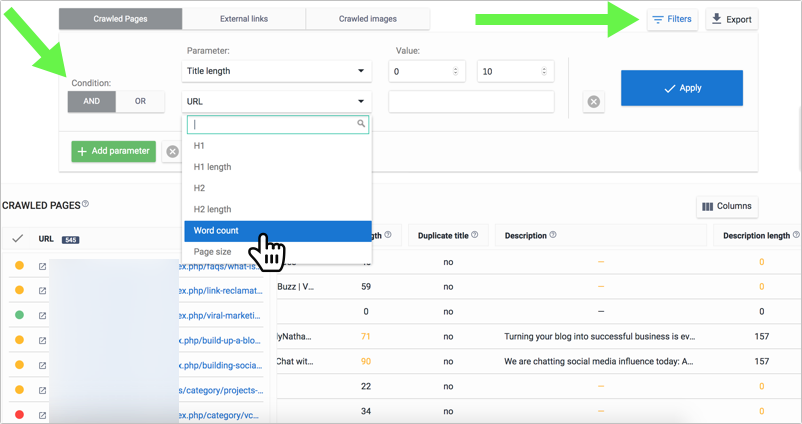 If I were to provide feedback and suggestions, I'd also include Search Console's clicks data here, since I have already granted them access to it. But let's hope this is coming.
The history and comparison of past site crawls is also a very useful section giving you a solid understanding of whether your SEO efforts were fruitful (or otherwise point out to where you have erred):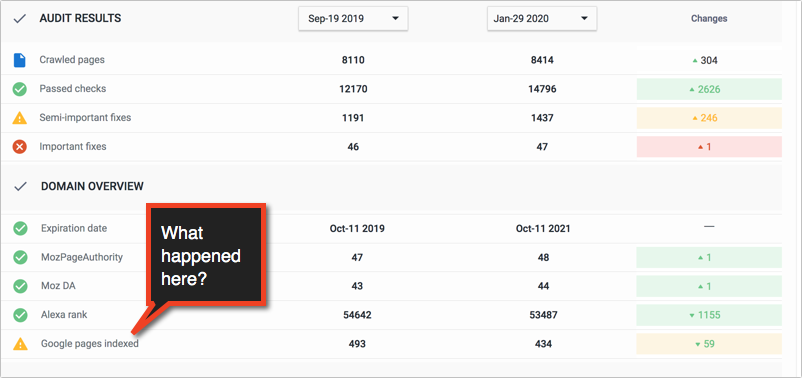 Conclusion
Overall, I feel like the tool was developed by people who know what they are doing. It offers solid features that are likely to cut your SEO budget in half offering you easy access to lots of data (rankings, GA reports, Search Console CTR numbers, backlinks, etc.) under one roof.
I haven't touched upon lots of useful features here, like PPC analysis, SEO report builder and lead generation tools. There's something for everyone there.
>>>Go ahead and check all the features out.
SE Ranking has a 14-day free no-commitment trial, so you can test it for free!
Finally if you would like me to review your tool, here's how to pitch!
The following two tabs change content below.
I am Ann Smarty, owner of SEOsmarty.com. I've been in the SEO industry for two decades. I am the former Editor-in-Chief of Search Engine Journal and a contributor to Mashable. These days I am running Viral Content Bee and writing for Moz, Buzzsumo, Wix and many others!
Latest posts by Ann Smarty (see all)