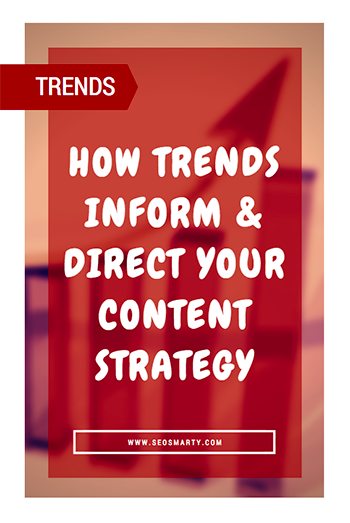 I spoke on seasonal trends and how they affect SEO and hence content marketing strategy at Pubcon last year.
While preparing my deck, I decided to create a list of resources here to make it easier for Pubcon visitors to get a neat overview of everything they need to get this content strategy in action.
This may turn out to be a useful reading for this blog visitors too, so everyone wins!
If you want to receive my full presentation:
Now, let's start with some quick takeaways:
Why use trends and seasonality in content marketing?
Timing is everything: Giving people what they need at exactly the moment they need it is probably the most effective way to get that visitor convert into a customer. It's also a great way to get that visitor share your content with their friends and thus bring more future customers to your site.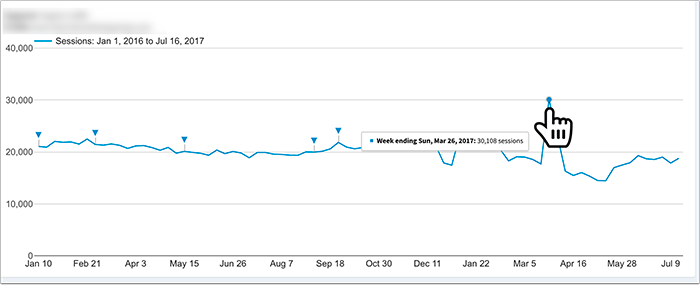 Types of trends: Predictable (annual) trends
These are the trends that you can foresee by doing some basic research. The good thing about these trends is that you can plan your content marketing campaigns one year in advance to target these trends better.
Time-based (winter=flu season, ski season, etc.). These are pretty obvious and you don't even have to be long in the industry to guess them. Simply use your common sense! Here's a good example of season-based timely content: Keep an eye on the publication date for this one. The idea is, people plan their winter vacation in mid-open, so that's where you catch the wave!
Holiday-based. These are holidays you'll easily find in an online calendar:

Official or well-known holidays (example of content targeting Christmas)

Worldwide
Country- / city-specific. Depending on how local your business is, you can target these events as close to you as you, for example this could be your town day.

Unofficial / professional holidays (TaxDay, SysAdmin Day, etc.)
Weird / funny / special days (National Cat Day, National Hotdog Day, etc.). Try DaysoftheYear.com to find those.

Event-based (conferences, festivals) => Industry monitoring. Here's a good example of an event-based linkbait
How to integrate predictable trends into your yearly editorial calendar
Planning content for the whole year is overwhelming: You are likely to have too much to think about.
Get a bird's eye view of your upcoming year content marketing plans: Creating an editorial road map is a good first step and you'll be able to reuse it next year for the most part too.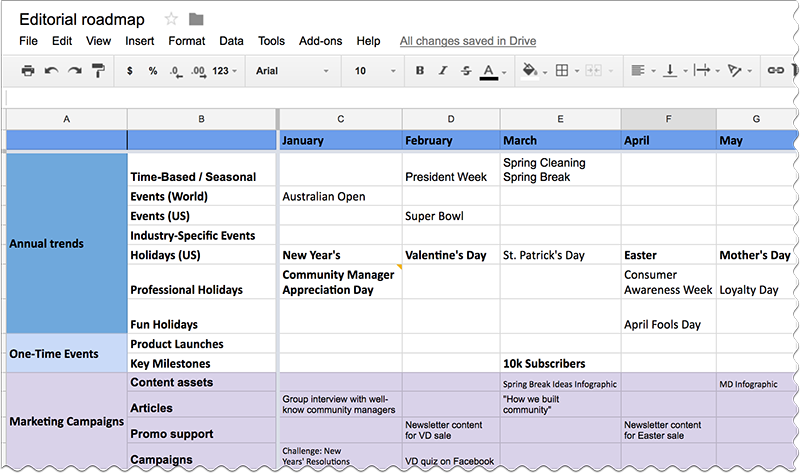 >>>You can easily make yourself a copy of this template here.
Content Assets: infographics, pdf whitepapers or ebooks, etc.
Articles: Any text content (expert interviews with influencers, indepth guides, etc.)
"Promo support": Content you'll need to create to support a sale, giveaway, etc. These could be newsletter content or content for social media updates
"Campaigns": Content you'll need to create for large-scale social media marketing campaigns (etc. content for a social media contest announcement and rules, road map for a Facebook quiz, etc.)


---
Label seasonal content ideas when doing keyword research
Identify which trends are of most importance using keyword research. I use a spreadsheet to organize my content ideas when I am into my keyword research routine. In the spreadsheet I note:
Main keyword, i.e. the topic of my content asset

Secondary keyword: These will go into the same article as the main one but will probably be a subheading / subsection

Search volume
Probable search intent for the query (This will help to determine how to better funnel those readers into customer or subscribers)
Whether I need to create new content for it or better tweak / optimize the existing one
Type of content that would fit best (e.g. an infographic, section, blog post, a new section in the frequently asked category, glossary item, etc.)
Whether it's a seasonal term

This process helps me plan my content more efficiently (i.e. I can expand my editorial road map with these ideas as they come)
When to publish content to catch the annual trend?
It may depend… In many cases Google Trends will be able to help: The tool will show you exactly when the interest started growing previously, so you can predict when to publish your content: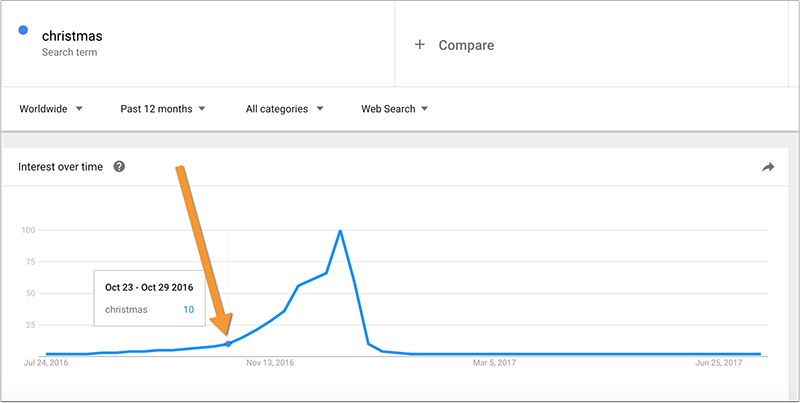 Looking at the screenshot above you can tell with some level of certainty that the interest in Christmas starts picking up at about late October. This is where you can start preparing for the trend. Your preparation period may include content brainstorming, content research, outreach strategy outline and more. You can also start posting on social media hinting that something big is coming to spur some more interest and collect more subscribers.
Depending on how many pieces you plan to publish to benefit from Christmas trend, you may start publishing your content end of November – beginning of December: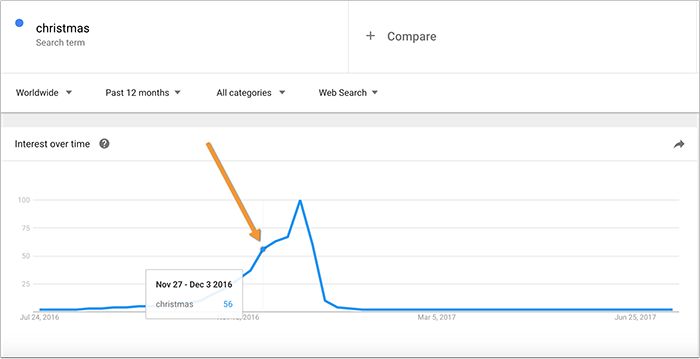 Finally, the pick is around December 11-17: This is where you publish your cornerstone piece, start actively reaching out to influencers on social media to help you promote it and invest in social media ads.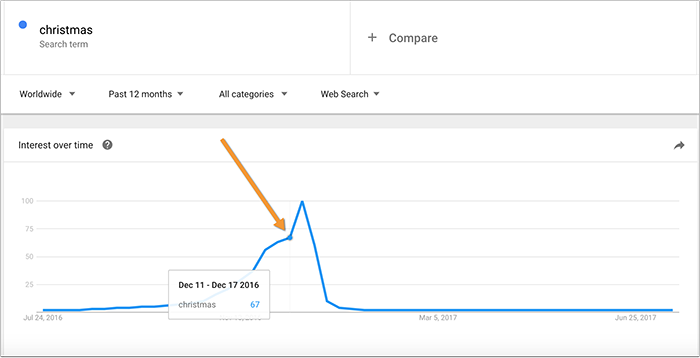 So as an example, here's how a Christmas-themed content marketing plan may look like:
You own a playground equipment business, so your target audience is school teachers, camp owners, etc. Moreover, your other important target audience is parents because they can influencer your future customers. On top of that blogging parents are your "linking" and "sharing" audience too. Because content marketing is mostly about influencing the influencer, you decide that your Christmas content asset will target your  secondary audience, i.e. parents.
With that in mind, when planning your editorial road map, you discover that that "Christmas safety" is one topic not many parenting blogs cover, yet there's a huge potential: It's more or less easy to rank for and it's something no parent will want to miss, so it will obviously attract shares and backlinks.
When thinking this over, you brainstorm that if you get a lot of blogging parents on board, it will be easier for you to get your content spread through those participating influencers, so you decide to put together an expert roundup with influential parenting bloggers who would each share their quick Christmas safety tip
At around mid-end of November you start reaching out to those bloggers to invite them to contribute. You don't want to reach out too early (or else they will lose interest to the piece by the time it is published) and you cannot reach out too late because you want to be polite and give them enough time to write up their tips
By the beginning of December you've collected all the tips and decided on the format (in collaboration with your design team) to make it a beautiful piece with nice highlights, tweetable quotes and featured contributors sections. So you work on putting everything together until about December 1-5 and finally publish the piece at the beginning of December

Quick note: People start putting up Christmas trees on December 1, so technically you are good to publish it at the very beginning of December. For other topics (like Christmas recipes) you may want to catch the later trend. As you can see, timing may also vary a bit from topic to topic but it still falls into the major trend dates.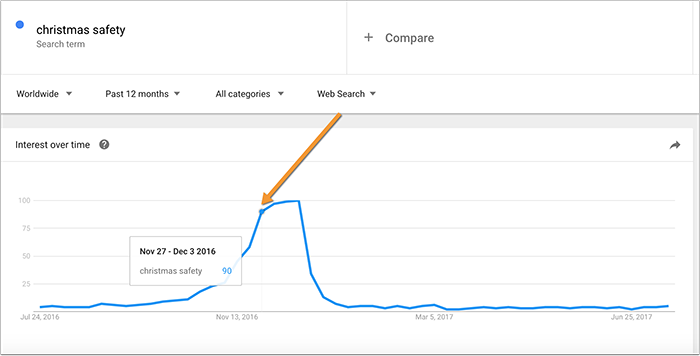 Once it's live, add your content to our content marketing platform and continue investing in social media ads until the trend dies out. Obviously, at the same time, you reach out to those participating bloggers asking them to spread a word: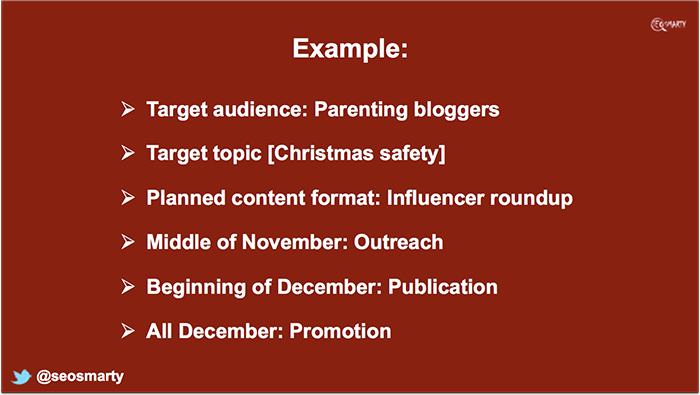 In other cases, you'll need content right when it happens but you still need to lock the preparation and promotion timeframe in your calendar. For example, if you cover fun holidays, you are most likely to need that content on the actual day of the holiday.
Putting everything together in your editorial calendar
If you plan more than 5 articles ahead, you'll need an editorial calendar. If you work with writers, editors, designers and social media marketers – all working on one bog of yours or your clients, you must have an editorial calendar.
I never start with editorial calendar (because it's just overwhelming). Instead, I start with editorial road map, expend it with keyword research and only then put together a calendar. Otherwise, I'll be overwhelmed.
Coschedule is a great option. Don't forget that just dropping the planned publication date will not do it. You need to put all the dates into your calendar:
Date when you start brainstorming and researching the topic in more detail
Date when you start reaching out to contributing influencers or subject matter experts (Even if it's not an expert roundup, you may still want to get some quotes into your piece for more credibility and later more promotion help)
Date when you edit, design and beautify
Date when you publish
Dates when promotion goes on
For bigger companies, this process needs to become part of the overall project management routine, as many teams (like sales, web design, etc.) can provide a lot of insight into trending topics and how to best cover them. Nextiva offers a collaboration suite which can be used for that.
Further reading: How To Productively Monitor Trends & Write Newsworthy Content
I'd love to hear more on the topic: Do you use seasonal trends in your content marketing? Please share your thoughts in the comments!
Save
The following two tabs change content below.
I am Ann Smarty, owner of SEOsmarty.com. I've been in the SEO industry for two decades. I am the former Editor-in-Chief of Search Engine Journal and a contributor to Mashable. These days I am running Viral Content Bee and writing for Moz, Buzzsumo, Wix and many others!
Latest posts by Ann Smarty (see all)