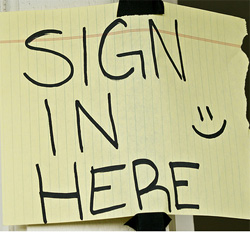 *The following guest post is by Amber Singleton Riviere*
It's surprising sometimes to visit websites and find even the most basic information missing.  For your website to stand up against the sea of competing sites that are available online, you have to make sure your site delivers the expectations of your customers and visitors.
Here are a few steps to help you make sure you're not overlooking something they think is important.
Step 1: Give them what they want
We often get stuck in our own thinking and plan things out based on what our needs are without considering the customer or end user.  Instead, try to think about things from the perspective of your customer or visitor.  If you were shopping for your particular product or service, what would you want to find on the company website?  Would you want to find every possible detail about the product or service?  Would you want to know the price?
Would you want to know the fine print?  Think about the tools and resources that will help support the visitor's decision to act on your offer, things like a FAQ section, white papers on your products, etc.  Give them everything they could ever want and more so that you're not creating obstacles between them and their decision to purchase or take action.
Step 2: Provide complete and easy-to-find contact information.
Many websites still don't provide complete contact information.  They don't provide email addresses, or they don't provide a phone numbers or mailing addresses.  You never know which of these pieces of information would be helpful to a customer or site visitor, so be sure to provide all forms of contacting you.  If you're worried about spam, just write out your email address, for example you [at] yourdomain [dot] com.
If you're worried about security issues, like giving out your physical address or home and cell numbers, there are plenty of cost-effective (and even free) solutions.  Get a post office box and a free phone number through Google Voice so that you don't have to give out personally identifiable information. Or better yet set up a virtual phone system to organize your support in the most productive way.
Step 3: Clearly lead
What do you want your site visitors to do?  Do you want them to subscribe to receive updates from you?  Do you want them to sign up for service or purchase a product?  Ask yourself, "Does my website effectively lead my visitors to these things and to taking the actions I want them to take?"
Is there any way you could improve on this, like making clearer and more direct calls to action?  Once you have their attention and they're ready to take action, you want them to do just that.  If not, your site is not helping you to meet your objectives.
Step 4: Don't be too wordy or bury your best information
It's tempting to try to over-explain things and say the same things over and over, so once you have your copy in place, see how you could improve it and make it more concise and direct.
Eliminate unnecessary verbiage and reduce your overall copy by 15%, as a good rule of thumb.  Also, once you have all the copy in place, make sure that you don't bury the most important information, like calls to action or key benefits of your product or service.
Step 5: Remember that function trumps form
Although we always want to build visually attractive sites, and that's definitely an immediate secondary goal, form comes first.  Your site should have a clear and easy-to-follow hierarchy with obvious navigation so that site visitors can actually get around your site and find what they need.
While it's tempting to want to do something because it "looks better," think about the usability standpoint first.  How will laying things out or naming links a certain way affect your visitor's ability to actually use your site?
We generally approach our websites from our own perspective, forgetting to consider how the visitor or customer might like things to work or what information they'd like to find there.  Always step back and figure out ways to make your site meet the expectations of your visitor so that it helps you meet the goals of your company.
Amber Singleton Riviere is the founder of Upstart Smart, a resource for small business owners, as well as the Rock Your Genius radio show, which focuses on small business and entrepreneurship.  She also runs the Give Back Project, a web design and marketing firm, and writes for websites like Web Worker Daily on topics relevant to small business owners.  You can find out about all of Amber's work by visiting AmberSingleton.com .
The following two tabs change content below.
Contributor
SEOsmarty.com accepts random contributions from close friends
Latest posts by Contributor (see all)