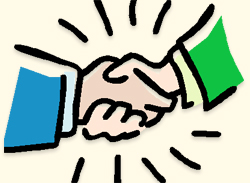 Time to move from theory to practice now. StumbleUpon reviewed throughout this post was taken as an example. The approaches listed below can be applied to any similar social network, I believe.
Facts we all know about StumbleUpon:
– It can send an impressive number of visitors to your page;
– People coming from refer.php page are as a rule just random surfers (they won't stay for a long time or ever come back unless you do not offer digg-front-page content type).
Benefits you can still gain using StumbleUpon:
– build relationships within your niche;
– develop your brand;
– get targeted visitors.
After some time of playing around and trying different methods, I compiled the list of approaches which worked great for me:
1) Get-noticed approach = grab attention of at least one niche power stumbler and others will come. StumbleUpon [as well as many other social media sites' out there] strong point is that each niche influencer has many "fans" (i.e. "followers") who also have fans of their own; so if you appeal to one, you will soon [if you do your homework well] connect to others at an exponential rate.
How do I do that?
>>> Be an early bird: be the first to stumble interesting posts by your favorite bloggers. They will appreciate your efforts;
>>> Add bloggers you daily read to your friends and follow them. By reviewing their stumbles you will get their attention.
2) Brand-your-image approach. The power of imaginary should not be neglected. Photos catch an eye and stick in the memory. Having seen your image several times on the web, people will start recognizing you.
>>> Make sure to add one and the same photo to your StumbleUpon profile, to your blog home page and everywhere else where you actively participate.
3) Brand-your-name approach = if your name pops up here and there regularly, it will soon be recognized.
>>> "Interweave" networks you actively participate in. For example, stumble an article where you posted a comment. Thus a person will first see your comment and then see your StumbleUpon review = that's it, he knows you already. This is the secret of "being everywhere" illusion.
4) Build-a-fan-club approach. Bear in mind that each time you stumble an article, your fans may read it – don't waste your friends' time.
>>> Stumble only truly valuable posts. This will encourage people to follow your stumbles and add you to friends.
5) Build-social-friendship approach. Treat your fans with attention; don't focus solely on niche influencers – every contact is precious.
>>> Thank your stumblers (those who stumbled or reviewed your post) – drop them a message, stumble their articles (if they are worth it), review their profiles, comment on their blogs, etc
6) Friends-to-partners approach [using a new SEO 2.0 jargon]: if you managed to grab a niche mentor's attention, don't stop at this point – move forward.
>>> Subscribe to his blog and post comments regularly, do a research and find if you participate in more common social networks and add him/her to friends.
7) Do-your-homework approach. Note that there is a person behind a stumbler. And your task is to get to know this person: his website(s), his interests, social networks he participates, etc.
>>> When you already feel at home in the community and have many devoted friends, connect to them closer: reply to each message and comment thoughtfully, mention their posts or personal details they made public earlier (e.g. comment on their photos you saw on Flickr or Facebook).
8) Do-not-get-obsessed approach. Each approach listed above should not be overused.
>>> Don't send messages to your friends daily saying how great their stumbles are or how interesting their new post is. Move forward moderately. The best thing is to be sincere. If you really liked the post – say it. Don't try to be "excessively good" to everyone – this can be irritating. Stick to your own opinion. This is the art of being polite but still independent.
9) Tweak-your-own-system approach. What I have understood from my own experience – no method is perfect for everyone.
>>> You should always track your own progress and edit your initial plan. Put a tick each time when you see some result from your social media promotion; note that the fact that you discovered your individual approach is a great result in itself which is worth time and effort.
Can you share your individual approach to StumbleUpon niche marketing right now?
[time for self promotion: you are welcome to add me to friends if you are using StumbleUpon 😉 ]
The following two tabs change content below.
I am Ann Smarty, owner of SEOsmarty.com. I've been in the SEO industry for two decades. I am the former Editor-in-Chief of Search Engine Journal and a contributor to Mashable. These days I am running Viral Content Bee and writing for Moz, Buzzsumo, Wix and many others!
Latest posts by Ann Smarty (see all)