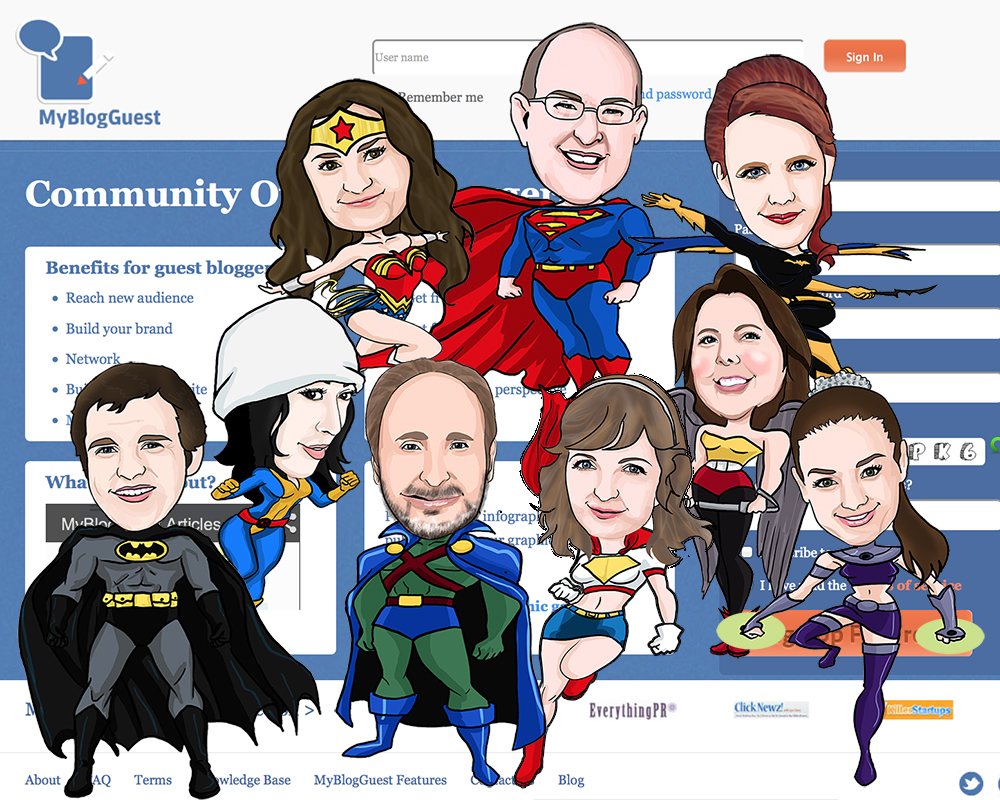 MyBlogGuest was born more than 3 4 years ago… It has been growing fast ever since…
As the newbie entrepreneur who was all alone for a long time, I had hard time relying on other people. But with the rate MyBlogGuest has been growing, I had no other choice… And the team has turned out to be my biggest accomplishment… The power is in people!
My Brother and Me
It all started about 5 years ago when I thought guest blogging was cool enough to deserve its own community. It took me about 2 years to go from dreaming to actually acting..
That's when my brother offered his help and started building what I was describing. We made a great team but the site grew so fast that we were not enough to maintain it.
Here's the rest of the team we were lucky enough to build:
Sana Knightly
1) What brought you to guest blogging?

2) What brought you to MyBlogGuest?
That might sound weird, but I was brought to guest blogging by MyBlogGuest. With MBG I've learned what guest blogging is, what it is for, and how it works.

It has been over two years since I joined the team which grew and changed since then a lot. And I'm still learning! Almost every day I see or hear new things I never new before. I learn a lot from Ann, can't stop admiring her 🙂
3) How did you become part of the team?

Ann Smarty invited me join the the team in April, 2011. I quit the job in a big company (it no longer exists btw) for a smaller one as it seemed at first. But indeed that was for something a lot bigger and more important.
4) What's your working routine?
There is a saying that good service is invisible… So, my daily routine is to do my best to stay invisible. Despite being a part of some other projects and taking care of organizational issues I handle most of customer support at the forum. We get dozens of questions, requests, suggestions, etc. everyday. MyBlogGuest never sleeps 🙂 And that's good because it means people are active. We appreciate all ideas on how to make the forum a better place for all of us.
5) What do you recommend new members of MyBlogGuest?
Being a new member of MBG is exciting and hard. The forum is big. And for newbies is so easy to get lost in here. I often ask new members to look around at first and make sure they are aware of our rules. Among our newbies there are plenty of those who have no idea about what we are doing here, and what guest blogging is all about. I used to be one of them, but I got lucky because I had Ann sitting next to me and I could ask her all my stupid questions 🙂

The hardest thing is to make people realize that it's impossible to get to know everything in one day from one letter or a blog post. It's a lot more than that.
Well, none said it's gonna be easy 🙂
Phil Turner
1) What brought you to guest blogging?
I was running a broad-interest website at the time that needed a large number of posts. Guest posts filled the gaps in my posting schedule.
2) What brought you to MyBlogGuest?
I signed up about a year before I actually started to use the site, after searching for "guest posting". The other sites I found were all about spinning articles. MyBlogGuest was the only ethically-based site I found.
3) How did you become part of the team?
I hunted through the gallery for posts for my site and whenever I found something significantly out of kilter in an article I would email Ann Smarty. Ann then sent me an email offering me a moderator's job, going through the Article Gallery. The job has grown along with MyBlogGuest and now takes up 5-6 hours a day, 7 days a week.
4) What's your working routine?
I get up at 4am and start work straight away, check all my emails, including MBG ones where articles have been refused by publishers.

After all articles under review are checked I will submit 1 or 2 articles on my own account then move on to reviewing members' articles in the main gallery. I have a little list of members whose articles are always above average and deserve special help

I try to fit in work on my own site, TimeMoneyProblem.com as well. This is a site I have only started recently and is designed to help people to make an income if they have lost their jobs. I cover real world and online ideas and the central message is that you need to invest your time in growing your knowledge, then to develop your reputation and relationships before you even start thinking about earning money.

In between all that I work on editing articles for other people!
5) What do you recommend new members of MyBlogGuest?
Build your reputation

As a publisher your ability to attract good writers depends on your reputation.

The writer needs to be confident that the post will stay "as is" for the foreseeable future
Writers want to see a blog with character and a community

As a writer your ability to attract good publishers depends on your reputation.

Work with publishers to give them the structure they want
Build posts around what publishers need
Deborah Anderson
Social Media Strategist at MyBlogGuest
Special responsibilities include: Twitter chat moderation, arranging and hosting Google Hangouts, moderation of MBG social properties, MBG podcasts
1) What brought you to guest blogging?
I guess you could say I've been guest blogging since before blogging came on the scene. I used to write a column and articles for others' web sites and guest blogging was a natural transition within my writing career.
2) What brought you to MyBlogGuest?
MyBlogGuest has been such a part of my daily life that I can't imagine there being a "start." I probably found MBG via a Google search and you could say, "the rest is history."
3) How did you become part of the team?
I kept sending PM (private messages) to Ann about how beneficial a Twitter Chat would be to build a MyBlogGuest community. She not only took me up on it, but became an expert on Twitter Chats herself, writing articles for Social Media Examiner and Mashable, on the topic of Twitter Chats! Ann brought me on board as the Community Building Strategist and we have since added Google Hangouts and Podcasts to that list of community building activities.
4) What's your working routine?
My routine varies. I am very checklist-oriented, but I also love challenges and multi-tasking. For MyBlogGuest, I spend time daily, tweeting, posting to social media, and responding to PMs. A big concentration of my time is spent with the hosting and production of the monthly hangouts and now the semimonthly podcasts. I block out time just for MyBlogGuest, at the end of each month, so that we can produce a quality presentation, one that is deserving of the quality community and team that MBG represents.
5) What do you recommend new members of MyBlogGuest?
I recommend that new members get involved in the MBG forums and/or the new G+ community (headed up by our newest member, Don Sturgill). There can be many questions that may come into your head and though the answers are there, they may not be readily seen. We have wonderful people on the MBG team and that team is there to point you in the right direction.

Ann has written many informative, detailed, step-by-step instructional blog posts on the MyBlogGuest blog, so come ask us and we can give you a link to more information to help answer any questions you may have about MyBlogGuest. And, by all means, hang out with us at G+ and the hangout on the last Friday of every month (11a EST/EDT).

Ann's brilliance motivates the team, and It is because of you, our community, that we are here.
Don Sturgill
Editor and Moderator of Elite Gallery
Special responsibilities include: Finding new real blogs for Elite articles, new user training, editing and improving of elite guest articles
1) What brought you to guest blogging?
My employer, having been hit hard by adjustments to Google's search algorithm, decided to sprinkle some white hat SEO on the situation. As the copywriter with the most internet experience, I was moved from marketing to the SEO team.
2) What brought you to MyBlogGuest?
At first, our database guy looked for places to publish my work. He was horrible at it. Once we tried My Blog Guest, it was obvious Ann and her team were the perfect partners. I wrote the articles, uploaded them to MBG, and turned back to writing – letting the MBG website do the hard work of connecting to publishers.
3) How did you become part of the team?
It's a long story, but here's the nutshell version: I met a billionaire at a remote airstrip in Utah's canyon country. He liked the work I was doing with a business incubator there and invited me to go to work for him. I had hopes of taking a program I had written for the incubator – The Roadmap to Freedom – to a multinational corporate level. Instead, I found myself in the confines of a cube farm, adhering to a dress code, writing hype for marketing, and saying, "Yes sir!" a lot. I'm not cut out for that life.

I love lean, mean startups and the excitement of taking a risk and doing something different, of investing my time in something absolutely helpful and valuable. Ann Smarty saw my plight and offered a hand up from the mire, saying "There's a spot for you on my team, if you want." Ann has been my (unbeknownst to her) mentor for over a year. There is no better place for me, right now, than helping out with My Blog Guest and learning the ropes of Guest Blogging from her and the MBG Team.
4) What's your working routine?
It is insanity. I am driven: up hours before daylight; usually still working past midnight, constantly moving forward. My saving grace is the Roadmap to Freedom program—it keeps my priorities before me always, and allows me to keep my mind focused. I'm a family man, with children still at home, so I must pull away from work projects and give them my full attention every day.

My most pressing current challenge is learning to slow down and be there for them, for me, and for you. Tom Merton said, "Don't just do something, stand there." That statement is beginning to make a whole lot of sense. My paraphrase is, "You can't save time, you can only wait for it." I have discovered prayer and meditation to be the two most powerful actions I can ever take. Sometimes, we have to slow down in order to catch up.
5) What do you recommend for new members of MyBlogGuest?
To get the most from MBG, one must step back and look at the entire picture. The resources on the main site, as well as the auxiliary services (The MBG Blog, Twitter Chats, Google+ Community, YouTube Channel, and such), are absolutely amazing. Much of the capability of My Blog Guest goes all but untapped. I guess it's that way with life in general—we access but a small portion of our potential.

Ann asked me to develop some tools to help MBG users better take advantage of the service – and that is something I am super-excited to do. Ann says the main idea behind My Blog Guest is to provide a place where people can get connected. I like that concept. If there is one thing I've learned in life, it is that we need one another … yes, we do.
Shannon Hutcheson
1) What brought you to guest blogging?
I had lots of plans to start guest blogging, but I never actually got started. I still have plans though.
2) What brought you to MyBlogGuest?
I came to MBG as a publisher seeking quality content, actually. I found the community quite active and saw the value of what was there immediately. I signed up as a PRO member right away.
3) How did you become part of the team? 
I'd known of Ann from many years back and knew that anything she associated herself with was going to be quality stuff. This gave me a lot of confidence in the value of what MBG had to offer.

So, being the chatty gal that I am, I started participating in the forums. The environment is encouraging and helpful, with prompt answers from staff and other members. Meanwhile, I got to continue to enjoy SEO and blogging like I used to when working professionally in the industry.

Ann sent me a PM and asked me if I would be interested in helping moderate the site and forums? To which I said yes please!  I really love helping people. With my SEO background, helping out MBG members is a perfect fit for me.
4) What's your working routine?
My typical day begins reading email, the MBG forums and the MBG G+ community, answering where needed. Then I start working on the article Gallery. I spend a most of my time there sending authors brief private notes to help them improve their articles or correct minor issues that may be against the MBG guidelines.

Throughout the day, MBG staff corresponds with each other to help MBG members and each other. There is a wide variety of experience here. Everyone has been very professional and a pleasure to work with. It's a fantastic team!
5) What do you recommend new members of MyBlogGuest?
When you are a new member of MBG, you should familiarize yourself with the site. Depending on whether you are a publisher, or an author, and whether you are using a free or paid account, you will be interested in different things.

Free member authors will need to use both the forum and the site search feature to find potential publishers. Then contact the site owner through the MBG system to offer their articles.

Free member publishers with the free MBG WP plugin installed can browse for articles via their own WordPress admin area and make offers directly through the plugin. Great feature! Or they can view the article Gallery on the MBG site and make an offer to publish on their own site that way.

Only paid member accounts can submit their articles to the Gallery and offer their articles directly to MBG publishing member sites (that are using the MBG WP Plugin).

So as a free member, you can see and use all the site features. Being a paid member makes using those features far easier.

Lastly, some members may not be aware of the MBG G+ community yet. We have focus topics every week and are always available to ask questions you may have about Mg's features or anything about guest blogging, site design, SEO etc.
Olga Goldina
1) What brought you to guest blogging?

2) What brought you to MyBlogGuest?

3) How did you become part of the team?
Can't say that answering these simple questions was easy for me. And not because of the questions themselves for sure, but since I still hardly realize till the end, I guess, how my life turned the way it is now 🙂

Last August happened to be another crossroad for me.

It was far not the first and I guess still not the last one (as we never know), but it was one of the most meaningful for all the time…

We all have some beliefs about the time flow and our wander through it, we set (with the help of society) a kind of milestones and deadlines for ourselves, by when and what we should achieve in our lives. In case we succeed – we are fine, but when we don't..

Then in August everything just turned upside down for me the very same moment. By everything I mean all the aspects of my life, including work and private life. I was about to become 30 and yes, that was a milestone 🙂 Looking back at those events now I may say that I think I was following a kind of a 'white rabbit', taking me 'down the rabbit whole' with a bare trust that everything should be just right the way it was. And that flow unexpectedly took me to Ann at the end. That was a real chance, no more no less, and I do not have any regrets that I took it that time 🙂

Guestblogging started for me from MyBlogGuest namely. I was lucky enough that Ann invited me to become a part of the team from the very start. And having changed quite a few far various jobs and positions I may claim that this is the greatest team I have an honour to work with and be a part of, and I admire Ann's manager talent.

So, my experience in guest blogging is still at its baby age after these 9 months, I'm learning and do it daily, – thanks to Ann, which is a great and very patient teacher, thanks to our team, which revealing something new for me ll the time. And I hope I'm doing not bad 😉 And you know, I'm living at work, and for the first time I really enjoy that 😀

4) What's your working routine?
Working routine.. It's so various that it's hardly a routine, but anyway.. I'm in several Ann's project besides MBG.

I'm absolutely in love with our ViralContentBuzz – both the idea and it's implementing. It's as simple as the game for kids, but at the same time it offers you far not kiddish options for sharing. So, the answer to the eternal question for me is definitely 'To Bee'! 🙂

Smartphotostock. Our newest one, fresh brewed and served 😉 Best example for me, that you should never be afraid of trying something new, and there's always just one step from an idea to its realisation. But this step requires an action, so make it and see the result.

MyBlogGuest is my hobby 😀 and my full-time job. It's my pleasure to be an administrator here. I like welcoming new users and helping them finding their ways around and verifying new blogs. I'm always there for you if you need any social love and shares for your published articles. I have never thought that I can be such a social person – thanks to Ann now I know 🙂 I'm glad choosing new and awesome featured authors and blogs for you.

And for sure I can't miss our Articles and Infographics Galleries here. I love promoting here as well – so, you are always welcome. And I myself have several blogs who live just on guest articles from MBG and they are pretty successful. Hope you don't miss our monthly roundups and twitter chats each Thursday, and, by the way, I will be very glad to see you in our G+ community. Join up if you are still not with us there 😉

5) What do you recommend new members of MyBlogGuest?
What I would recommend to new members.. Since in a way I'm a newbie myself, I would say, never afraid to ask. We are here just for you, we are with you almost 24/7 and always open and ready to help.
Min Min
1) What brought you to guest blogging?
2) What brought you to MyBlogGuest?
I was running about a dozen websites. They were growing, but growing slowly, because I worked on everything alone from content, to programming and marketing. I find myself more into creating, developing, and promoting websites and I only write when I'm inspired.

That's how I found MBG. I signed up for its free program, and looked for articles in its Articles Gallery for my blogs. This means I am no longer working alone. I have found people who contribute to my blogs for free.
3) How did you become part of the team?
As a fountain of ideas, I gave suggestions to Ann Smarty. Since I'm good at writing, I already started to add notes to articles in the Gallery before I became a moderator. Because what I was doing was exactly what a moderator is supposed to do, I naturally became a part of team without any need for training.

After that, all my fountain of ideas about guest blogging and MBG mushroomed, including an emphasis on the technical approach.

The great thing about Ann Smarty is that she brings people together; she takes action, and I learned from her how images make articles so beautiful, hehe.
4) What's your working routine?
My routine is hectic. I'm always asked "Do you ever sleep?"
I have to deal with emails and MBG's inbox every day from morning, answering all the questions, solving all the issues, responding to inquiries in MBG forums. I add complex issues to my to-do folder and mark them, will deal with them later one by one through the day.

Our moderators reside in different time zones. I usually start to moderate articles when my fellow European colleagues are sleeping. So MBG never sleeps.

Whenever my ideas pop up, I start to write proposals. Sometimes I don't sleep at all. But I'm slowing down now, because I was doing too much and I had too many proposals to work up properly. Everything takes time to implement properly. I also run my own website Long Live Internet

I spend the rest of my time working on my websites.
5) What do you recommend new members of MyBlogGuest?
What blogging tips could you offer our audience?

Blogger:

>> Investment

A blog is an investment, even if it's cheap nowadays, because it's your time, and your time is expensive.

So when you decide to invest your time on your blog, you have to be focused; you have to focus your energy on limited blogs, until at least one succeeds, because you only have limited time and energy.

The reason a blog is more successful than others is that the blogger concentrates on the blog; he spends more time and energy on the blog than others.

Even though I have 20 websites to take care of now, I only had one at the beginning until I learned all the necessary skills from it and it also led to my 2nd website 3 years later. So from my 2nd website, the rest is not from scratch, and it took 3 years part time for me to reach that point.

>> Niche

Focus on a niche, not all in one type. It's the niche, and your passion for that niche that makes your blog stand out.

One of my writers said something that touched me. He said, I want to create a foundation as someone who started writing with his favorite things and branched out from there.

Your 1st blog is your foundation; only when it succeeds, you can then branch out from it. So it has to be your passionate niche.

>> Online course

Take an online writing course that's related to your writing genre if possible; it's your asset.

>> Don't work alone

There's a saying, you cannot find love; love finds you. It also applies to the people you can work with, no matter if they're your employees, contractors, partners or boss.

I had been working alone for years, but I no longer work alone now. I have passionate people who assist me, passionate writers who write for my blogs, expert partners who partner with me, and a great boss who indulges my ideas.

This all happened when I started to join MBG and network with others. I didn't look for them; they came to me. But I do give myself a chance to let others know me and get to know them at the same time.

If you can, then partner with someone who's good at marketing, so you can concentrate on writing. Vice versa. If you're good at marketing, partner with someone who's passionate about writing.

But, remember, you cannot find them; they find you. And until then, be prepared and get ready.

Working with selected others is much better than working alone or working with unselected ones.

Any tips for our audience based on your role as a MBG moderator?

Guest blogger:

>> Expert

You should be an expert or hire an expert to write articles, because readers want to read expert articles, but not laymen's. An English literature writer may not beat a teenager when writing about video games if the writer never plays a video game or the game he played was out of date.

I admit that a skillful professional writer is able to write good articles effortlessly, however, the articles that truly touch us deeply are those from the bottom of a heart.

If you ever encounter one passionate writer, please, please cherish him.

You can always find an editor to edit articles.

>> Tailor made

Discuss with favorite publishers about content ideas and keep their preferences in mind when writing new articles.

A successful blog has its focus, its main theme, so it needs articles highly relevant to its theme.

>> Originality

Be original. It's actually my foremost tip, but I keep the best to the last time. Be original; it's easy to say, difficult to do. But I love originality and I will strive for it my entire life whenever I have the opportunity to do so, to tell everyone if possible, please, please be original.

In order to write an original article, you need to start from scratch, but never from "research"; you need to start from your own experiences, from your own memories, from your own notes, and from your own perspectives and then reach your own unique new insights.

After that, you can research to verify facts in your memory.

If you ever start an article from research, you can never be truly original. Your view is influenced by others first. You're simply rewriting other's views.

It's not that you cannot have similar views as others, rather, you should approach your articles originally. The approach should be original.

What MBG user tips could you offer our audience?

>> Use direct publishing, but use it wisely.

My blogs receive directly published articles every day. I screen them and pick the ones that fit.

Some of them are irrelevant so I have to decline.

But some authors are really great at direct publishing the ones I want. I feel like they know me, know my blogs, and know my preferences; they directly publish to my blogs every day, and I accept their articles every day.

When they're in doubt, they will suggest articles to me instead.

So add your favorite publishers, and directly publish to their blogs wisely.

Ann Smarty also offers exclusive awesome content ideas to our premium users for free. I really hope everyone catches this precious opportunity!
The MBG Team

The following two tabs change content below.
I am Ann Smarty, owner of SEOsmarty.com. I've been in the SEO industry for two decades. I am the former Editor-in-Chief of Search Engine Journal and a contributor to Mashable. These days I am running Viral Content Bee and writing for Moz, Buzzsumo, Wix and many others!
Latest posts by Ann Smarty (see all)