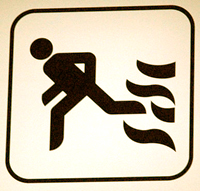 This post is [again] courtesy of my fellow Mozzer – Rishil
A couple of weeks ago – we published Search Within a Search- How This Could Mean Bad News for Your Site. It seems that brands and marketers have realized how teleportation can harm a business brand, not just in organic, but paid search too. The idea has been picked up in popular press – the NY times managed to get some interesting quotes from various brand owners and specialists.
Pinny Gniwisch, vice president for marketing of Ice.com, would protest the use of the site in site search bar if it appeared for the sites he is representing "This is essentially giving the customer a way to leave a search for your site". It seems that Amazon.com has already protested and Google has honored their wish to get rid of the SiS box under their brand results.
But what the interesting point that we picked up from the article was Google's hint that not only is the process not directly manageable by a brand, but if it de-activates the feature – there are slim chances of getting it functioning again:
According to a Google spokeswoman, the company has honored such requests from "a couple" of unnamed businesses. These companies, however, may not be able to reverse their decisions.
"So we ask them to try it out and see if they want it removed, – the spokeswoman said. "We think it could be a really useful feature." (quote from the NY article, emphasis ours).
Right – we are not sure what this spokes person does at Google – but we are sure this statement was an official one – and hence raises some questions:
Will Google allow SiS to be controlled via webmaster tools or any other method? (seems unlikely).
Which other sites have requested the SiS to be taken off, and what is the easiest way to do so at present? ( I would guess webmaster tools)
Why can't the feature be switched back on? (Is it automated and needs manual intervention to get rid off?)
Is this one of the strangest innovations that G has introduced? It seems so – other features that G introduced had clear control by site publishers – at least in turning off and on – in the example of the site links.
It's not that the SiS hasn't got great uses – but I would guess instead of switching the feature off – a set of guide lines on how it works, what to do to switch it off would be useful.
Ultimately it's wrong to show competing PPC on search results on a brand name – if that would be switched off – then we see less of a battle by brands on accepting it.
The following two tabs change content below.
Contributor
SEOsmarty.com accepts random contributions from close friends
Latest posts by Contributor (see all)