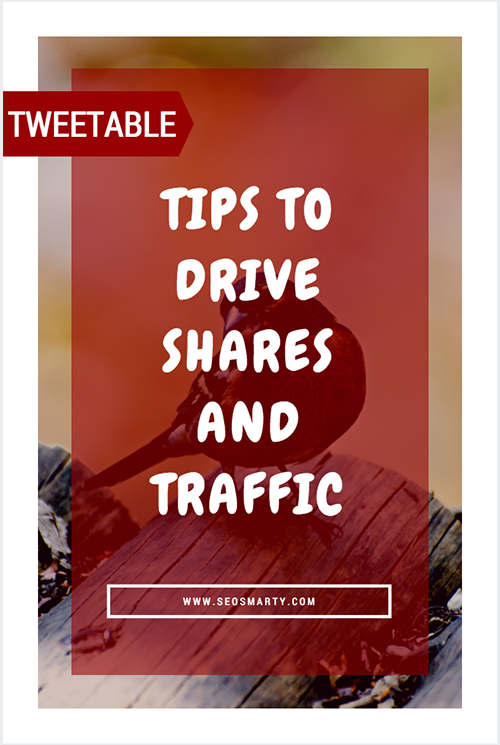 An article full of bite-sized tips always goes well because readers always find something to take home.
If you make those bite-sized tips tweetable right from the page, it goes even better!
And if you get a bunch of contributors on board to submit those tips (and help promote that article once it goes live), this is almost sure to result in a big traffic boost as compared to your regular editorial.
To give you an idea of what I am talking about, here's a "tweetable tips" article I just did a few weeks ago. As you can see I added "further reading" links to each tweetable tip to link to our blog older articles or to feature blog posts written by the contributors.
You cannot use this trick too often: The audience will grow tired and stop interacting. Make it a yearly or quarterly event to engage your blog readers, expand your following and grow your blog interactions.
If you plan your editorial calendar far in advance, you may want to make those tweetable tips about big holidays or industry events to get even more people on board.
1. Come up with a good question
This is the most important step. You cannot have a good discussion without coming up with an interesting question that makes short actionable advice even possible.
Try thinking in one of these directions:
Ask to provide one tool they use professionally on a daily basis (or a tool they cannot live without)
Ask to share one technique that finally let them get better at what they were doing (after many months of struggling)
Ask to share one thing that never fails to help them accomplish something they are struggling with
Remember that you are looking for short actionable and varied answers: Formulate your question accordingly while keeping your audience in mind.
Tip: Use these tools to research niche-related questions.
2. Create a MyBlogU project
The easiest way to start those answers coming is to create a MyBlogU expert interview project that gives you control of everything:
Setting up the deadline
Defining the minimum word number
Inviting experts who use the platform to get featured (so they are more likely to reply)
Creating an easy HTML output of all the chosen answers
Contacting all the participating experts in bulk with a status update, a request, invite to share, etc.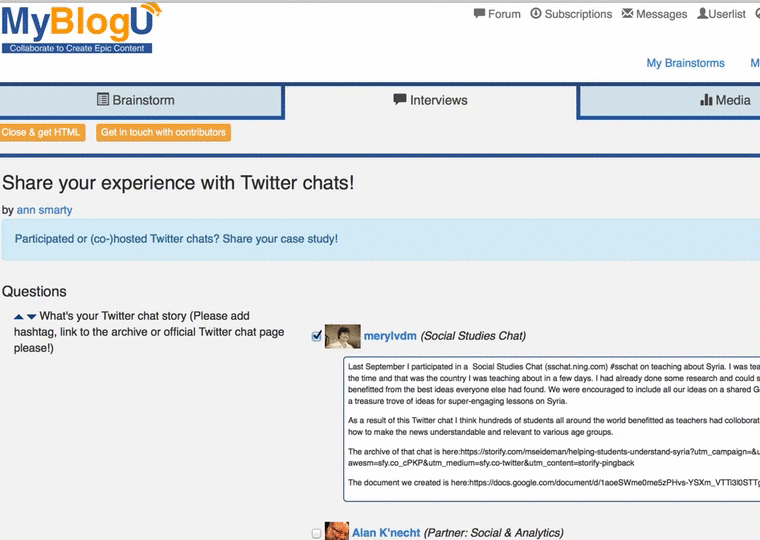 3. Contact people manually
Don't limit yourself to one platform only. Personally contacting niche bloggers lets you expand and diversify your sources and, most importantly, lets you build connections with those you get in touch with.
I personally often get invited to those expert roundups but I pass on most of them (for the lack of time) unless I know the person who emails me.
I am not a fan of being contacted with these requests on Twitter too because I wouldn't be able to plan my day well if I had to answer those questions right away.
So my best tips here are:
Get properly introduced to the contributors (and/or use ego-baiting tricks to better approach them. For example, mention well-known influencers who are already participating.)
Use email as your primary means of contact.
I suggest making a note that you'll be able to only use unique answers in the article to prompt them to come up with more original answers (and also avoid any hurt feelings in case you fail to use any answer).
4. Collect best answers and pack them into an article
Choose the best actionable and original answers and pack them into one article. Make sure to credit your contributors (for "tweetable tips", linking to the contributors' Twitter profile seems to make the most sense).
How you format the article is up to you…
You can break the tips into subtopics
You can feature most mentioned tools on top, followed by the actual tips
You can turn those tips into visual quotes
You can add links to each mini-tip for the readers to click to learn more..
5. Use tweetable quotes to get more people mention your experts in the tweets
This will be your most interactive piece because you'll give your readers an opportunity to tweet their favorite tips tagging the author: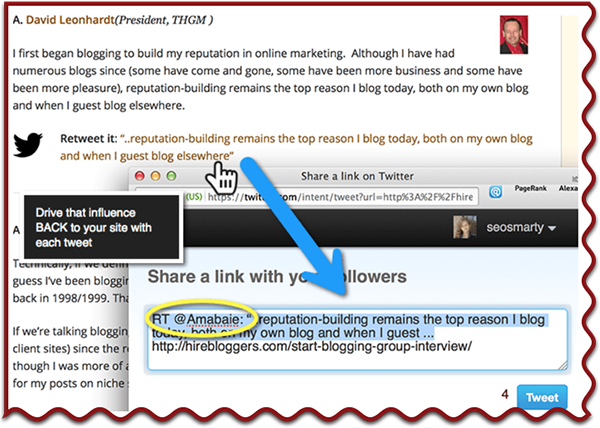 There are a few ways to add "Tweet this" links: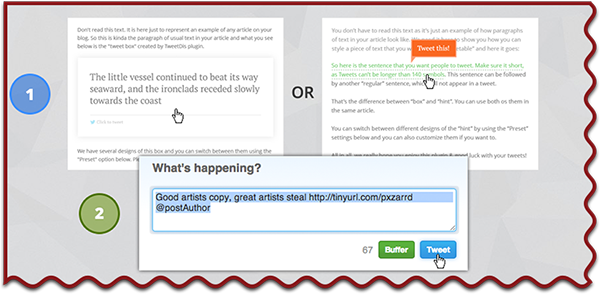 If you turn those tips in images, you can get people share by clicking the image using this handy tool.
You can see how this can be accomplished here.
You can play with visual quotes more by packing them into a SlideShare presentation (example) for more exposure. Here are more ways to re-purpose your tweetable quotes.
6. Publish an article and notify the participants
Once your article goes live, the first thing to do is to notify your contributors. In an email to them, create a clickable link for them to make it easy to share the piece right away.
You can also invite them to comment and interact with other contributors.
With MyBlogU, that's a one-click action: Just mark the interview as published and the platform will email all the chosen participants and invite them to engage and share.
This is time-consuming but don't skip it. Having lots of contributors on board means you have a great opportunity to engage them on social media too. Tagging them is the most efficient way to get them to like, comment and re-share your update.
Here's a quick guide on social media tagging on Twitter, Facebook, Linkedin and Instagram:

[Social Media Tagging Cheatsheet: How to Tag Users on Twitter, Facebook, Linkedin, Instagram, Google Plus from Ann Smarty]
8. Schedule lots of tweets, each tagging a new expert
The good thing (actually two good things) about Twitter is that:
You can easily tag people in scheduled updated
You can get quite repetitive: The lifespan of a Tweet is so short that you can rest assured that all your tweets will be seen by different sets of eyes.
Now, we'll benefit from both of these good things here. Use MavSocial or DrumUp [aff] to easily schedule each individual tweetable quotes to your Twitter as far ahead as you want.
I may have tweets featuring different tips going out for two months after the actual article goes live. Each of those tweets drives that contributor back to the site or encourages them to re-share to their followers (or both).
Sit back and watch traffic coming…
I'd love to hear your thoughts on how to improve this process!
The following two tabs change content below.
I am Ann Smarty, owner of SEOsmarty.com. I've been in the SEO industry for two decades. I am the former Editor-in-Chief of Search Engine Journal and a contributor to Mashable. These days I am running Viral Content Bee and writing for Moz, Buzzsumo, Wix and many others!
Latest posts by Ann Smarty (see all)