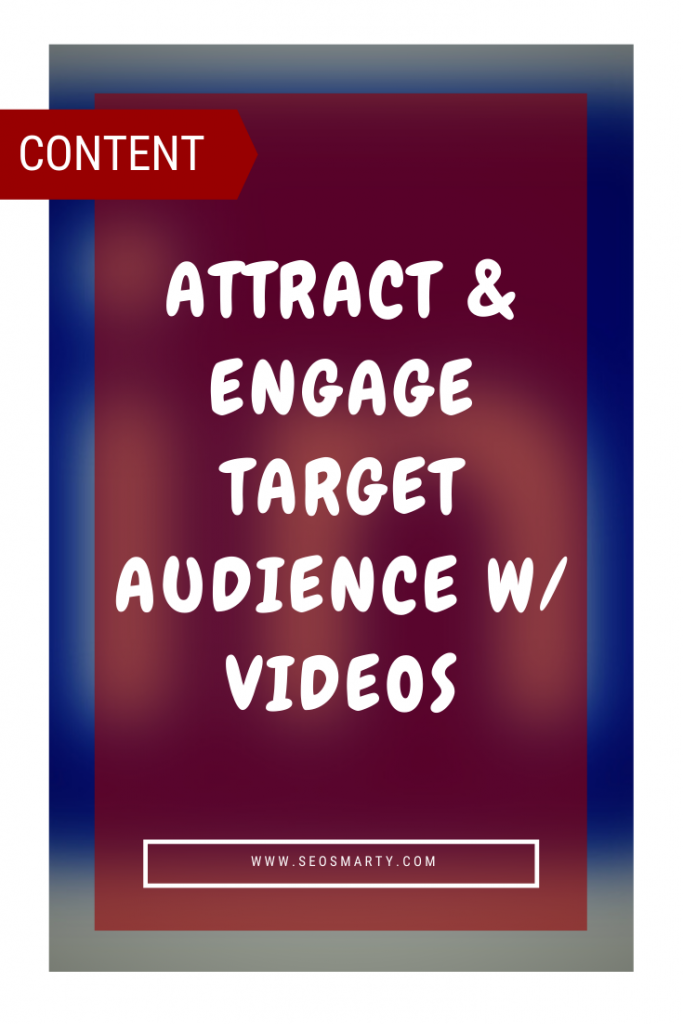 Video is a robust multimedia content format that has become an effective means for businesses to share their marketing message.
Companies worldwide use creative video marketing to attract potential consumers and convert website visitors into paying customers.
Creating video content that is motivating, makes people laugh, or is something others can relate to is powerful because it elicits emotional responses. Videos also help build rapport and trust with your audience.
Savvy business owners and marketers understand the benefits of keeping up with digital marketing trends by leveraging video content.
The stats speak for themselves. According to the results from Wyzowl's State of Video Marketing Survey for 2022:
Video continues to be a key priority for marketers both in terms of usage and spend.
The number of people watching online videos is almost double what it was in 2018.
55% of survey respondents create their videos in-house, 12% outsource video production, and 32% use a mix of in-house and hiring others.
Until recently, smaller companies with limited resources and technical capability could not keep up with their larger counterparts and avoided using video marketing.
Today, with the plethora of video-creating software, apps, and tools, everyone can affordably and painlessly create and share engaging video content with their target audience. And 85.5% of brands are including video content in their business marketing strategy.
The most popular types of videos are explainer videos, social media videos, and content marketing videos.
Are you looking for ideas and affordable tools to create your own videos?
Renderforest
Renderforest is a cloud-based video creation tool and editing platform that enables brands of all sizes to create numerous types of videos quickly and conveniently.
In addition to videos, users can create logos and other design graphics, build websites, and make logos by customizing pre-templates or starting from scratch. We will focus on how to create videos.
You can create all your videos online without installing any software. Personalize your video using your preferred logos, text, images, and colors.
Next, select a music track or upload your own. Then, download the finished product or share it on Facebook or YouTube with one click.
Renderforest offers several pricing options ranging from Free to Business. I always recommend trying a product for free first to test it out.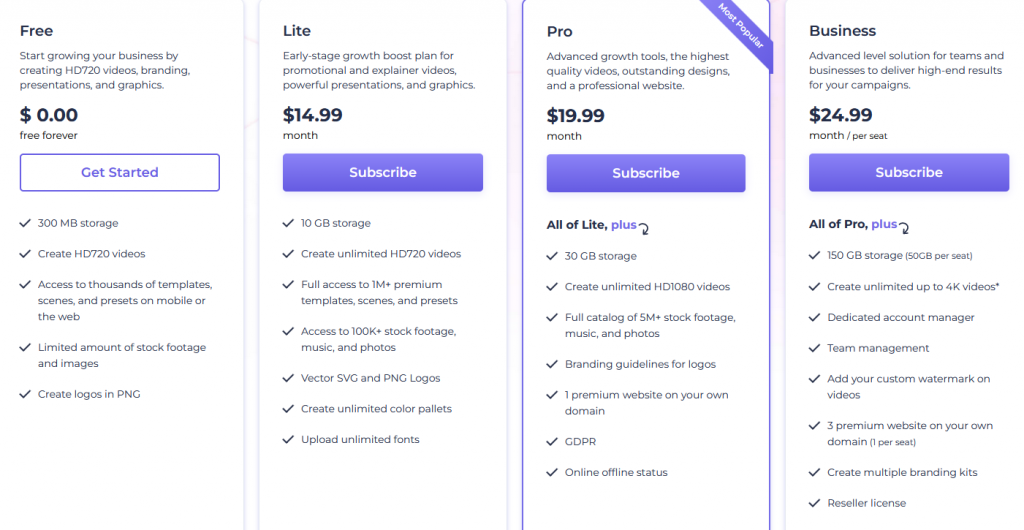 Image source
Let's Create an Explainer Video for Your Business with Renderforst
An explainer video is usually relatively short and is used for promotion or marketing. Its purpose is to highlight the benefits of a brand's offerings or to message in a visually appealing overview.
Animated explainer videos effectively deliver complex messages or showcase products and services in a simplified, engaging, and easy-to-digest manner.
To give Renderforest a test run, head on over to the homepage and enter your email to get started.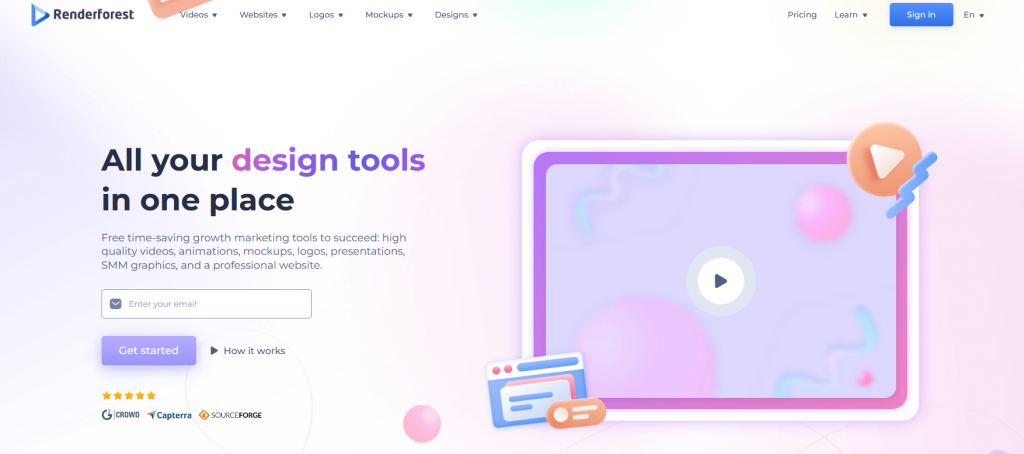 A popup will prompt you to sign up and create a new account with your email address, Google, or Facebook. Select the option you prefer and click "Sign up."
Next, you will see a popup telling you to check your email and verify your email address.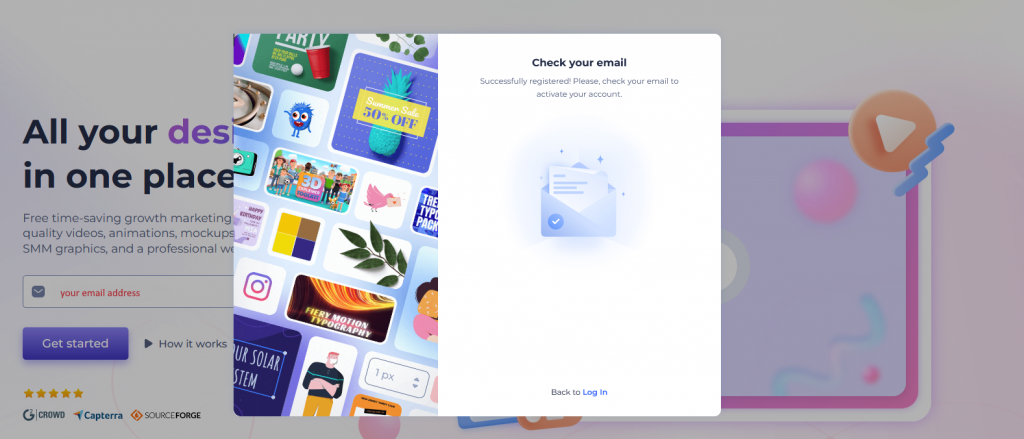 Click the link in your confirmation email. It will take you back to the Renderforest website, where you can log in.
This is where the fun begins. Notice on the left-hand side that you can select a video aspect ratio. We will choose 16:9.
Select a Template
There is an extensive catalog of templates of various types from which to choose, including:
Motion graphics
Whiteboard animation
Kinetic typography
Live-action
Character animation
Mascot stories
Parallax design
Logo reveals
Choose 3D explainer videos and narrow down the results by using the search function at the top of the page.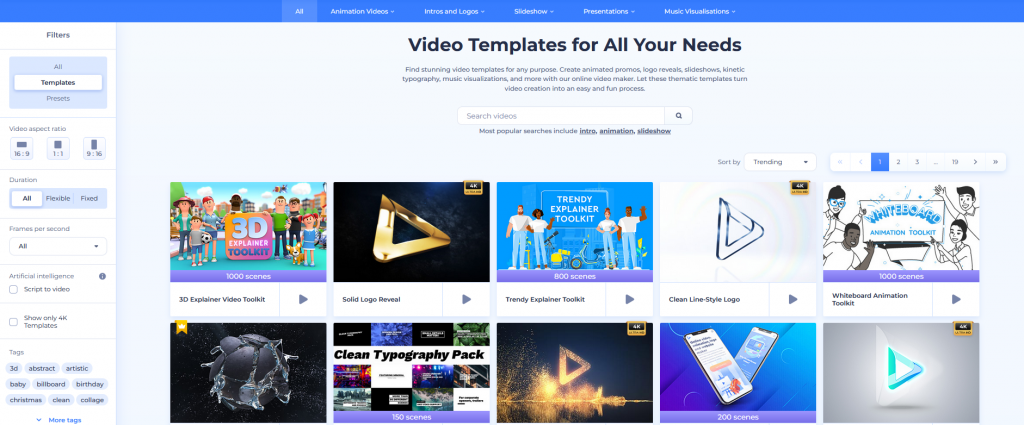 Now you are ready to start customizing your video to create your own personalized cartoon movie.
Choose from a large assortment of animated scenes, styles, and transitions. Note that some options are only available in premium versions.
Watch the video preview to get an idea of the available scenes and what you may wish to use for your own video.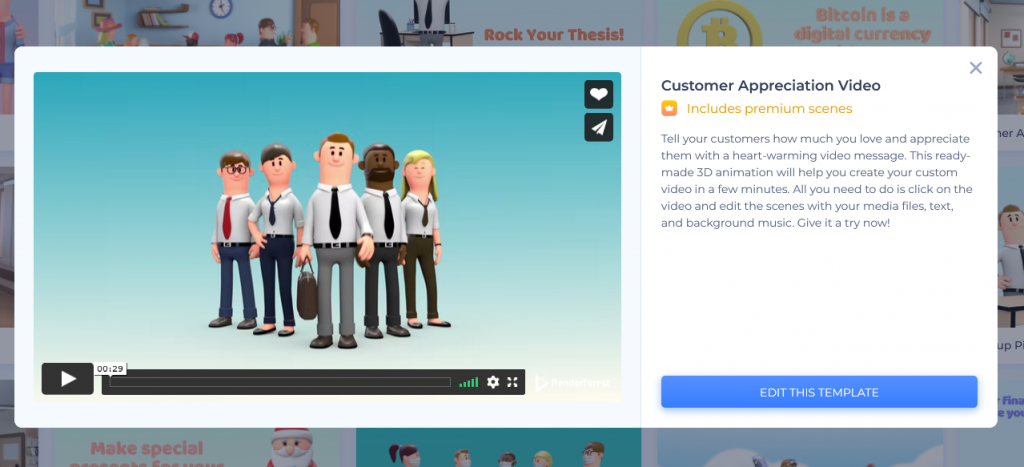 Renderforest will give you an option to watch a brief tutorial that will walk you through the process should you need additional assistance. Click "Create Now" to start.
You can start from scratch, type in your script story, let Renderforest suggest the best matches, or choose one of the premade stories.
For this example, use the Customer Appreciation Video. Watch the short preview and then click "edit this template."
Once again, Renderforest offers a short tutorial to walk you through the process. It doesn't get any easier than this.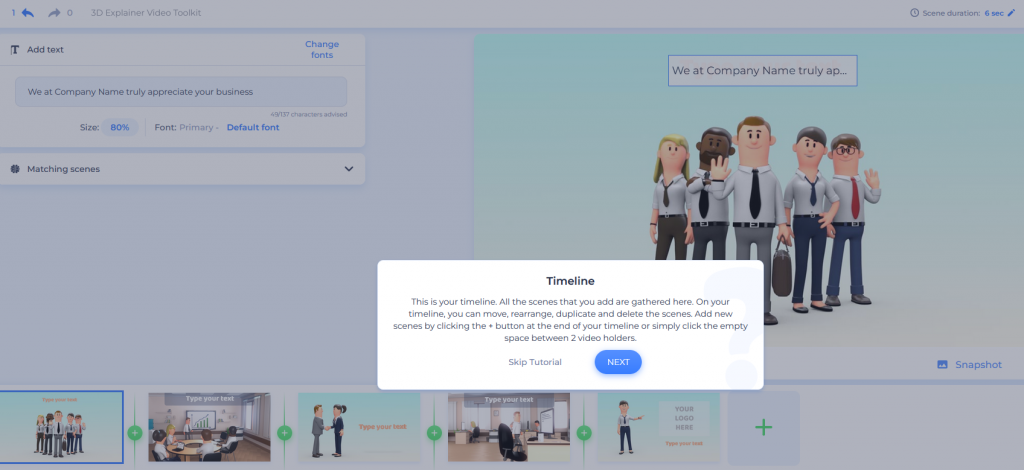 While previewing your video in the free version, If you are trying to use a scene only available to premium members, you will be prompted to replace the premium scenes or upgrade your membership. Notice the premium scenes are tagged with an orange ribbon.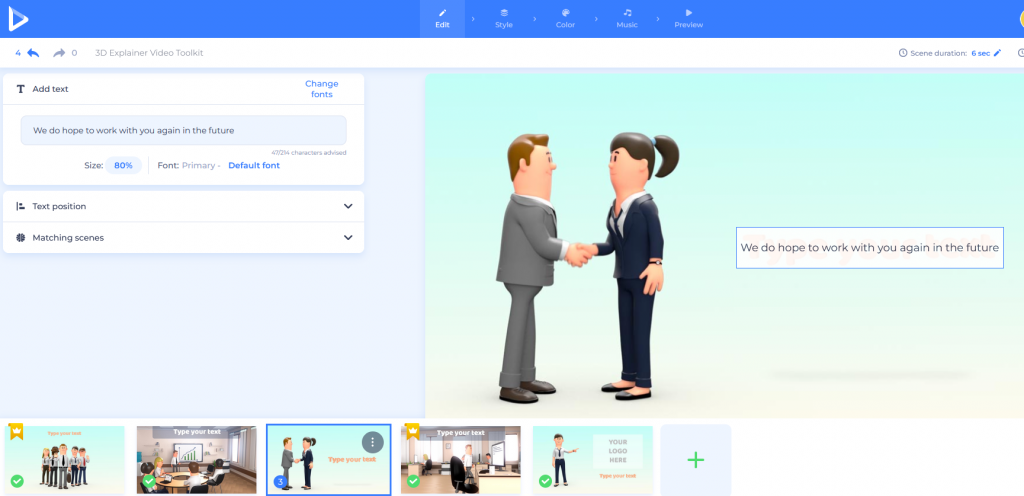 To replace a scene, hover over the slide in the timeline and choose "replace." Scroll through the scene options on the left-hand side and select the one that best suits your needs.
Below is a video I created with a 3D Explainer template using a premium account:
The possibilities are endless with Renderforest. You can mix and match elements from different scenes and create a truly unique, engaging, and informative video for your audience.
Here's an example of a video I created using Whiteboard animation for Viral Content Bee:
If you are new to creating videos, take Renderforest out for a spin and see how you like it.
Turn Your Blog Post into a Video
Lumen5 is an intuitive and affordable video tool for companies who run a blog because it quickly turns blog posts into videos.
Using artificial intelligence (AI), Lumen5 matches your blog content with relevant video clips and images. You can also upload your own and use the text overlays available on the platform.
To create videos using Lumen5, you have to sign up for an account. The platform offers several price tiers from free to custom enterprise solutions.
The free version is free forever and includes unlimited videos, 720p video resolution, and the Lumen5 watermark.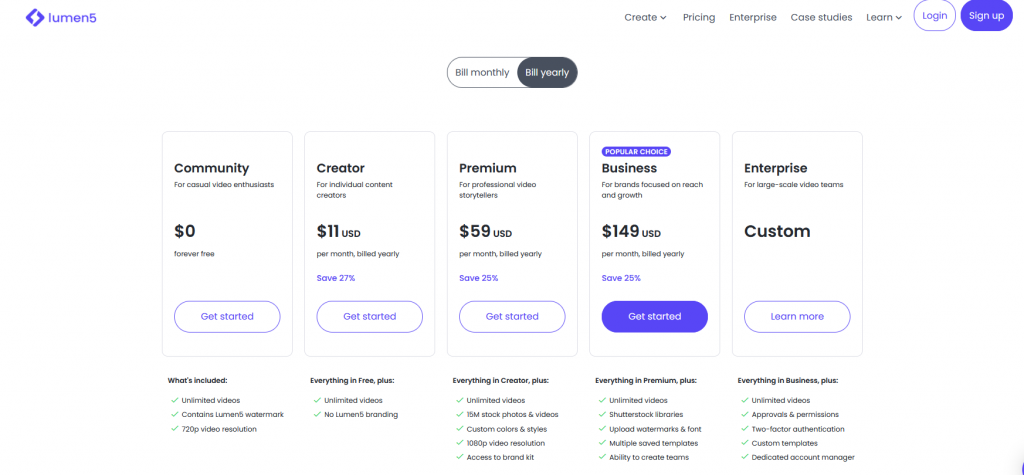 Once you have signed up for an account, you will be asked about your goals. You can answer the questions or simply choose a template.
Or, you can skip this step and move right ahead to where you can choose a blog post and paste in the URL.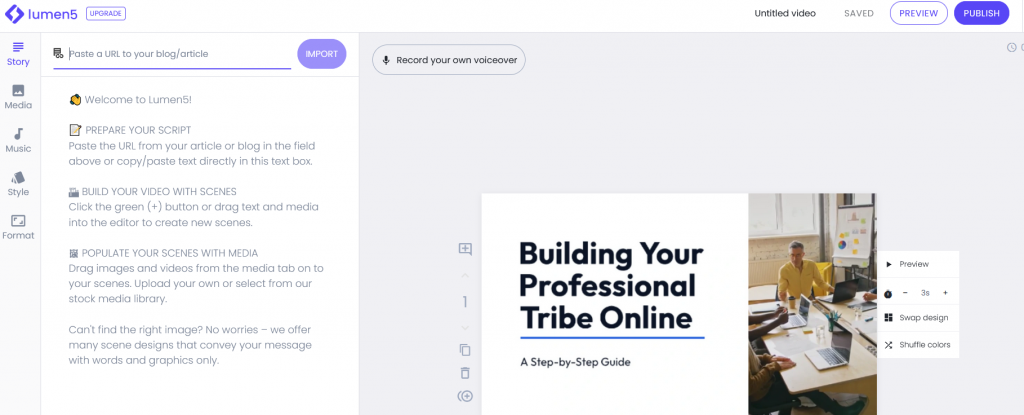 Lumen5 will then import the text from your blog post. It will appear on the left side of your screen in the story tab.
Clicking the "Convert to Video" button will automatically provide you the foundation on which to edit, add, change, or remove content and visual elements in the storyboard.
Remember that Lumen5 uses AI to create your video for you. If you want to add more text, delete some, or change any of the elements in your video, use the icons on the right side of each video slide.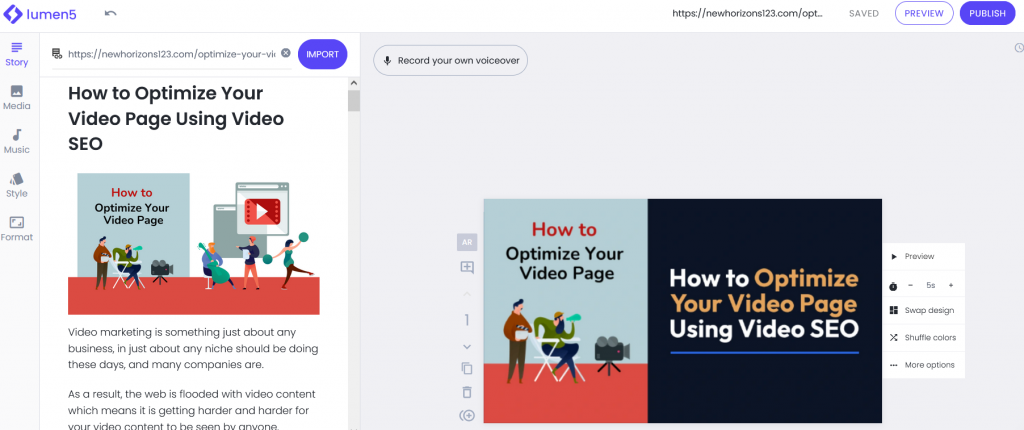 You don't want to use all the text from your blog post. Instead, summarize it by only including the most salient points.
Once you finish customizing your content and media, click on "Music" from the side navigation.
Choose from Lumen5's assortment of music or upload your own. Note that you can also record a voiceover if you want to.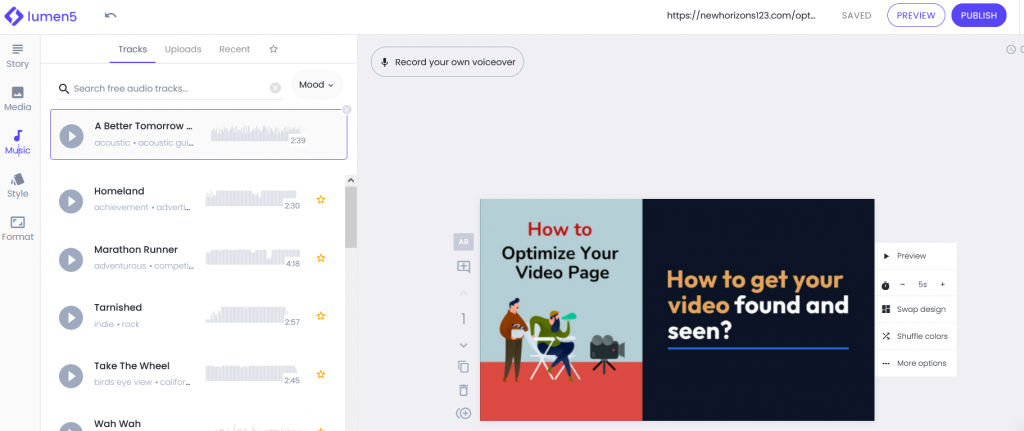 Creating videos with Lumen5 simplifies the process enabling even newbies to promote their business on YouTube, their website, and social media.
Below is an example of a video for this blog post using Lumen5.
Lumen5 simplifies the video creation process for marketers, enabling them to promote their business on social media with the most shareable and engaging type of content.
Use PowerPoint Presentations to Create a Cool Animated Video
You already know that not using video today is no longer an option. Do you know that you can use a product you likely already use for business and turn it into a video?
Many marketers and business owners already use PowerPoint to create presentations for customers or management. Turning your presentation into an engaging video is as easy as 1-2-3.
Choose a template design you want to use.
Change the placeholder content and replace it with your own.
Save or export the PowerPoint as a video file.
There are numerous PowerPoint templates on the market today that you can use to create awesome videos. Read How to Create a Cool Animated Video with VIDEOOWIDE for detailed instructions.
Conclusion
If you have been sitting on the sidelines of the video marketing trend because you didn't think you had the time, resources, or expertise to create your own, it's time to get started.
With cost-effective, intuitive tools such as Renderforest, Lumen5, and PowerPoint presentations, anyone can attract and engage their target audience with creative videos.
The following two tabs change content below.
Julie Weishaar
As a Visual Digital Marketing Specialist for
New Horizons 123
, Julie works to grow small businesses, increasing their online visibility by leveraging the latest in internet and video technologies. She specializes in creative camera-less animated video production, custom images, content writing, and SlideShare presentations. Julie also manages content, blog management, email marketing, marketing automation, and social media for her clients.
Latest posts by Julie Weishaar (see all)