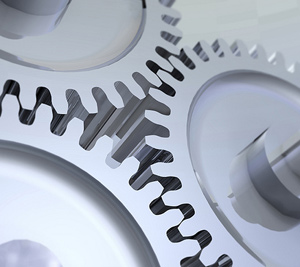 You may know that I do business from far away, I have no way to meet my business partners and contacts in the real world, but despite that I am fairly well-connected.
So here's my recipe to building connections online: reaching out to niche influencers through social media.
Whether you are trying to pitch a guest post idea, get a review of your book or discuss a potential partnership, here's the most efficient way to start a working relationship with your niche influencers:
1. Get Introduced: LinkedIn
LinkedIn has been the most efficient in terms of connecting to influencers. All you need to do is to ask your first-hand connection to introduce you: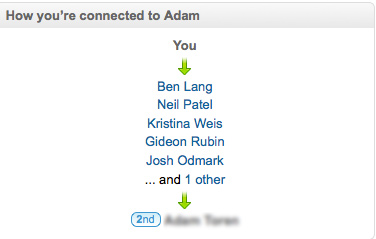 This usually works because people feel obliged to respond when they are asked by a person who knows them well.
I haven't tried Branchout for that yet, but they also offer a similar option: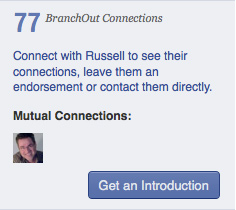 If you target a blog or a company rather than a specific person (or if the specific influencer is not on LinkedIn at all but his company is), you can use Linkedin-based tool called My Web Career. It will show you how you are connected to any company:
Red Links = current position
Blue Links = previous positions
Link Thickness = time at company
Here are my own connections at About.com, for example (how cool is that?)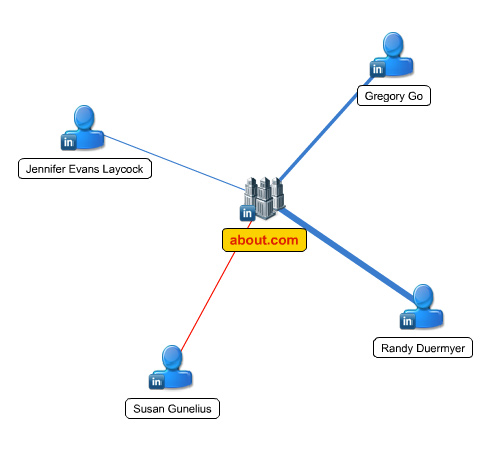 Quick tip: even if your current contact may be no longer involved with the company in question, chances are he has left plenty of colleagues there (especially if he was there for quite some time). So use the above chart to find second-hand contacts in the business you are interested in.
2. Follow up: Twitter
Here's the truth: Twitter is not the best tool for the first-time connection. There's too much clutter to get a proper first introduction to the important and busy person.
Twitter is great for subtle reminders and follow-ups though. So, after you get properly introduced in the step above, don't forget to follow the same person on Twitter (and probably add him to the corresponding list to quickly find later).
If you are not sure what is considered to be an acceptable follow-up on Twitter, be sure to read this post. Referring to the terminology in the linked post, I tend to use my "Inside Voice on Twitter" and I want to think I am up for "good uses of it":
– Commenting on content posted by someone else

– Joining a conversation in progress by adding relevant information or commentary

– Introducing yourself  or striking up a conversation with someone you'd like to get to know
No matter what's your attitude to Facebook (I for one use it quite actively), I haven't found it an appropriate place to get a business introduction (especially with the influencers who usually have thousands of connections and thus have lost hope to ever sort their Facebook inbox out).
So if you are serious about the connection, don't use Facebook to reach out (even if you are already friends there).
I may be wrong but Facebook has always been more about casual and friendly chatting rather than talking business. Trying to use your personal relationships to get some business benefit feels somewhat wrong, so I never do… (You may have a different experience, please share it in the comments!)
Keeping Sanity…
Now, this is the most important part of the whole post: never overdo. Yes, a reply may take quite long (not because that person you are trying to reach out to doesn't respect you but because he is most likely to be too busy, have personal issues, etc).
The most reliable way to successfully get in touch with influencers is to become one. So use the time you are waiting wisely: grow your own network, get inspired and develop your ideas.
Good luck!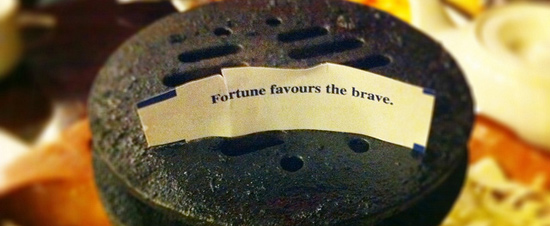 Post photos shared by ralphbijker and Tomasz Stasiuk
The following two tabs change content below.
I am the owner of this blog as well as Brand and Community Manager at Internet Marketing Ninjas and Founder of MyBlogGuest, MyBlogU and
ViralContentBee.com
Latest posts by Ann Smarty (see all)