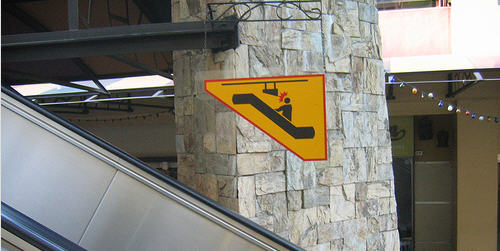 A few days ago I tested this blog homepage with one handy tool I recommend trying: Five Second Test. That was both fun and useful. Now what I did:
got a screenshot of the blog home page;
filled in the form;
uploaded the screenshot there;
posted the generated link at Twitter and asked my dear followers to take part in the experiment.
The participants were offered to look at the picture for 5 seconds and list max. 5 things they remembered.
Here is the screenshot I posted (click for the full-sized version):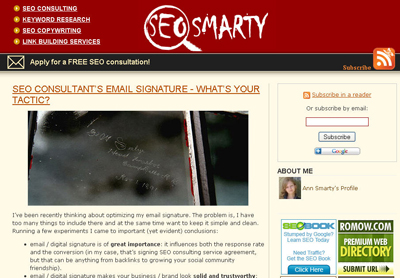 Now the results (that were fun): 25 Twitteres took part in the test.
Most often mentioned page elements:
Top post title (mentioned 10 times);
Color – "red" (mentioned 10 times); examples:

red head;
red & white color scheme;
red letters, etc.

 Top post image (mentioned 9 times):

cursive writing;
frosted glass;
window with signature, etc.

SEO smarty (mentioned 8 times);
SEO consulting (mentioned 7 times);
My photo (mentioned 7 times):

your portrait;
Ann Smarty's face;
author's photo, etc

RSS (mentioned 6 times).
The funniest result:
1: Red in top
2: SEO Consultants Signature – Whats your tactic
3: Damn…
Conclusions:
SEO association ended up the most popular after all (together with SEO smarty and SEO consulting it was mentioned 20 times);
I do realize the test was taken by people who knew me (as they are my Twitter followers) and most probably had already seen my blog before the test.
The test is a good way to look at your own site "from outside"; so try it!
P.S. Guess what the trick with the post image is! 😉
Post image: Infinite Usability Loop!
The following two tabs change content below.
I am Ann Smarty, owner of SEOsmarty.com. I've been in the SEO industry for two decades. I am the former Editor-in-Chief of Search Engine Journal and a contributor to Mashable. These days I am running Viral Content Bee and writing for Moz, Buzzsumo, Wix and many others!
Latest posts by Ann Smarty (see all)