With all those notorious hundreds of thousands of algorithm changes, millions of flags and billions of free testers, Google is helpless.
No, I am actually quite serious. There's really only one reason why they started all the removal / disavow craziness: They are helpless.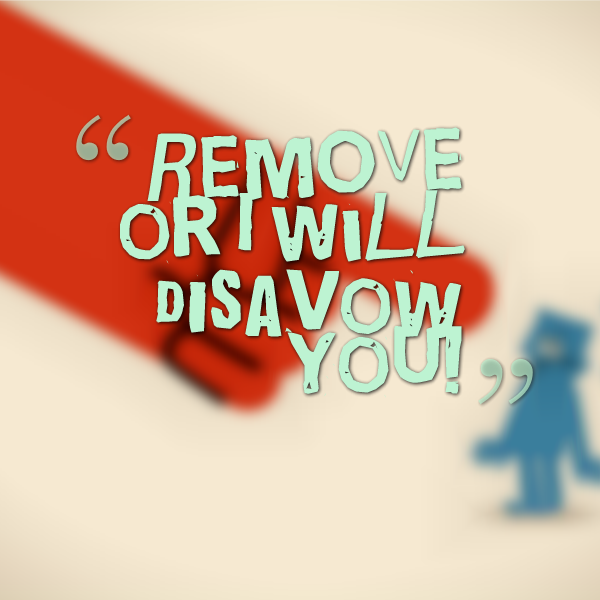 Their algorithms are not working against spam and their human reviewers are not enough to clean the web: So they decided to scare the hell out of us to make us help them correct their deficiency.
* It's up to you if you want to be part of their helping brigade. I for one prefer to stay away and just keep doing what I think is right.
I am not even blaming them but seeing where it takes the web is sad. People are afraid of linking but if you think about that links are heart, sole and the actual base of the whole web. If we kill links, what's left?
Google *may* be actually meaning good (which is doubtful considering the amount of confusion they seem to be purposely spreading): Stopping spammers is essential but at what cost?
Yes, there's a probable solution: Nofollowing links. But this stinks…
@jimboykin Yeah, no man is an island, but every web site will be. Gonna go find a good walled garden

— jimbeetle (@jimbeetle) August 15, 2013
I mean aren't we supposed to write for humans? Aren't links supposed to be part of our writing, hence don't they need to be for humans? Why do we need to think if we want to give credit when linking? Why are we forced to think if we are *allowed* to link?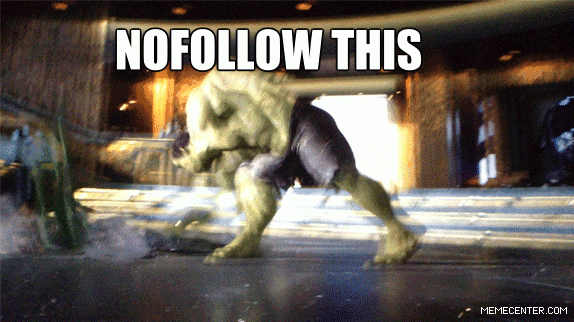 And the link removal requests… Google wants us to scare each other and *do our best* to remove all links before we can be reconsidered. They want us to join their FUD campaign and help them (it's sad that most of us do!)
I saw many very good people getting very scared by one of the following:
Please change: Polite
This one is almost perfect. You explain nicely what your problem is and ask politely to change your link. If I were removing the links, I'd be doing this one: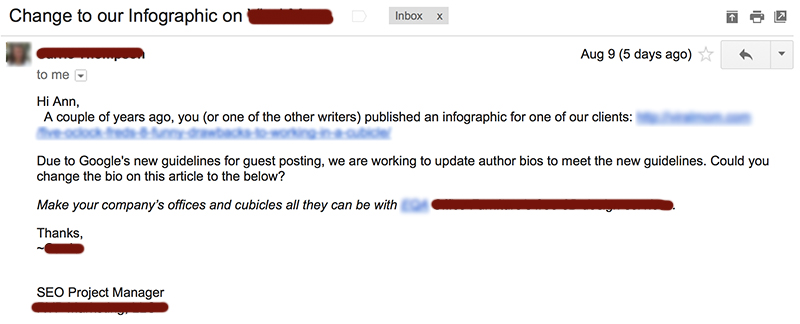 Please nofollow: Polite
This one was quite good as well: Very polite, very personal and coming from the official email and the real person: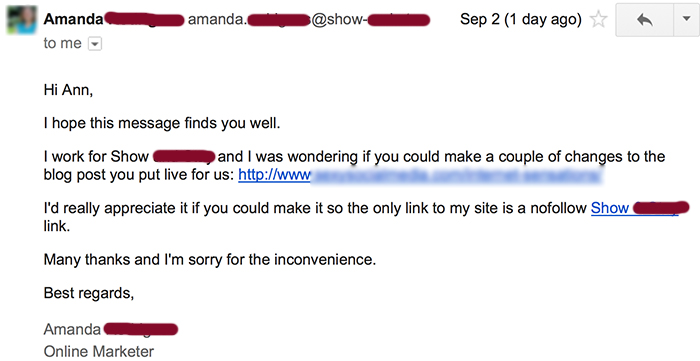 Please remove links: ~Polite
This one is worse but still good.

This one is a bit more polite: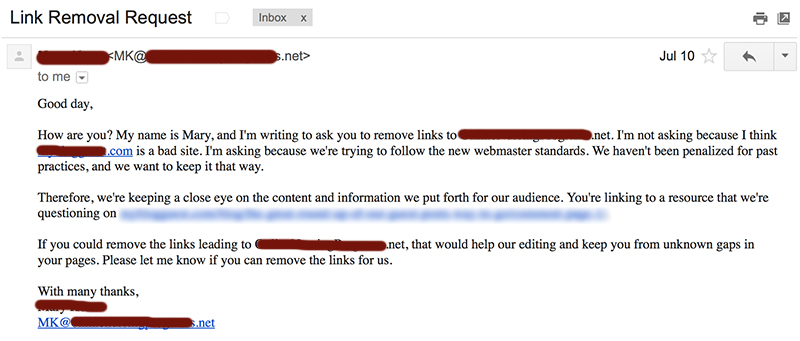 Remove: Threaten with Disavow
It hate it: People threaten with Disavow (Google has never confirmed that being disavowed means red flags but we know it is evil enough to use that info against us!)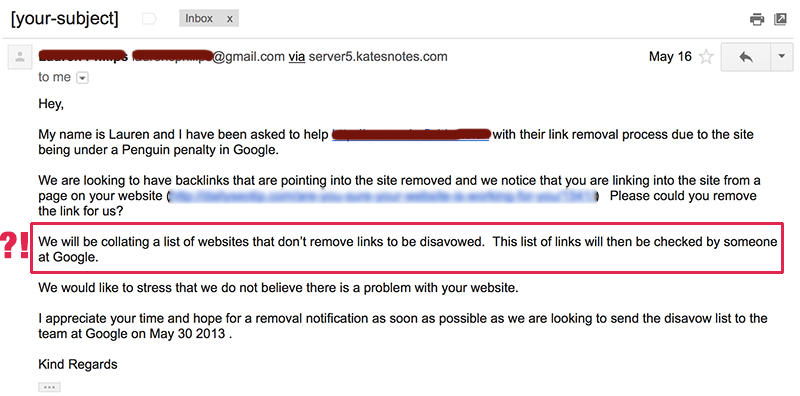 Remove: Bogus DMCA
This isn't even the proper DMCA notice! No content is used on the site! But it's scary and in my case, my hosting company even threatened me with deleting my files from the web!
I'd say this is the dirtiest, yet, sadly most effective.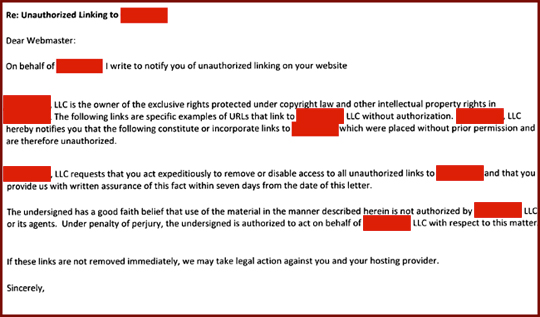 Which have you gotten and what did you do? Ignored? Removed? I know people tried charging money for removing nofollow links. What if you are threatened?
The following two tabs change content below.
I am Ann Smarty, owner of SEOsmarty.com. I've been in the SEO industry for two decades. I am the former Editor-in-Chief of Search Engine Journal and a contributor to Mashable. These days I am running Viral Content Bee and writing for Moz, Buzzsumo, Wix and many others!
Latest posts by Ann Smarty (see all)