Today in the morning I was pinged by one of my Facebook friends with some cute news: a start-up called Magpie (aff link) offers you to monetize your Twitter account and earn money for Tweeting the ads.
My instant reaction was "Nah…" The whole idea of earning money from friends sounds somewhat not good. But curiosity won, I went ahead and signed up. You can estimate how much you will be earning by clicking the "Start" tab.
So far I have no real data to share as I spread 0 Tweets and thus can't see any statistics but here's what the service looks like both from outside and inside:
What the service promises
Magpie

(aff link) promises to give you full control over your Tweets: you can set the ad frequency, stop it any time and even pre-approve each ad before it will be tweeted on your behalf.
You can add a disclaimer before or after the advertisement text before the ad goes live to warn your friends that the Tweet is sponsored;
Advertisements are served based on the person's general networks (so the service appears to classify the whole Twitterati into groups by interests);
You can spend the earned credits to advertise your own product or site (this one looks pretty cool by the way).
You can also earn money for any new Advertiser who signs up through your personal referral link, you will earn a 30% commission of our transaction fees.
Payment is made via PayPal as soon as you earn at least €50.00
Why I am in a doubt:
Even with disclaimer and pre-approval, won't this result in my following loss?
CPM model: will those ads be ever clicked? Will they devalue Twitter: "in order to raise your revenue, all you need is to multiply your tweets or to increase your followers. And their site promotes these two facts for every low revenue account" (as my friend Rishi Lakhani points out);
While the design is pretty sleek and clear, why would anyone trust the guys? Where are people I refer listed? How all my stats will look like?
How is Twitter going to react? They have been expected to monetize themselves for a year now – will they bear with someone monetizing their network prior to them?
Anyway, I am curious to see how this will evolve. I definitely see the potential (for both parts: publishers and advertisers). I've never been paid for participating in social media communities and it might be a cool opportunity to combine business with pleasure.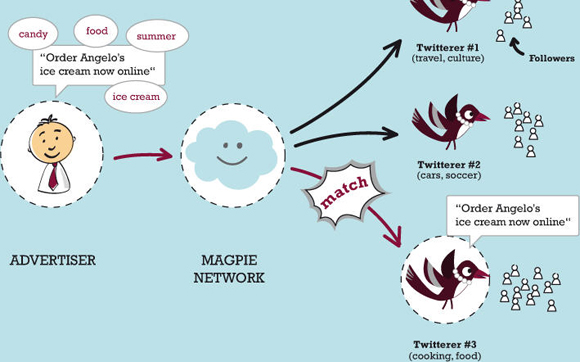 So what do you think? Would you join? Would you pay for advertisements? Would you click the advertisements?
The following two tabs change content below.
I am the owner of this blog as well as Brand and Community Manager at Internet Marketing Ninjas and Founder of MyBlogGuest, MyBlogU and
ViralContentBee.com
Latest posts by Ann Smarty (see all)