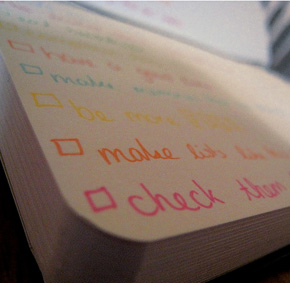 One thing I have clearly realized while being a full-time guest post editor at SEJ is that most (guest) contributors (no matter how much we love them) are terrible at formatting.
It very seldom happens that a guest blogger will browse your blog for a few minutes and copy your obvious formatting preferences to his own post. Or even that he tries to make the article formatting web-friendly at all.
While your guest post style guide is up to you (by "style guide", I mean the required article length, preferred topics, writing manner, good article samples, etc), formatting is usually similar across the blogs: we need clear code, readable paragraphs, working links, etc.
A properly written formatting guide won't let you fire your editor: most contributors will still fail to follow all the steps properly, but you'll be amazed at how easier your editor's (or your own) work will become.
A good formatting checklist should be:
As short as possible (The longer it is, the more chances there are that none of your contributors will follow all the steps);
As concise as possible (Avoid explaining the reason why you want it to be formatted that way. The more you explain, the less obvious your point becomes. Just list your requirements)
As easy to understand as possible (Add a few screenshots, bold most important points, etc).
Now, here's my formatting checklist for guest bloggers and paid contributors. Feel free to download it, edit minor details (like the preferred width of images) and use it to edit your blog. It will be suitable and (hopefully) useful for:
Guest-contributor-driven blog;
A blog network with multiple co-authors;
A business managing multiple paid contributors;
A business owner outsourcing content to ghost writers, etc.
Attention: This guide requires that your blog contributor has a wp-admin (Contributor) access to your blog. Otherwise, you may ask to send you the articles in HTML.
*Download the formatting guidelines here. Read some explanations below*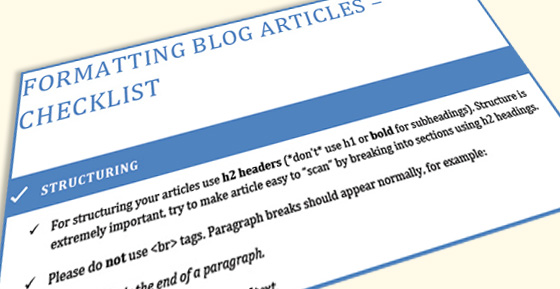 Structuring Standards
We know that breaking the article into sections is very important: blog readers tend to scan through the articles jumping from a subheading to a subheading (and probably reading the sections that seem most relevant to them).
One of the most efficient ways to capture your readers' attention is to provide catchy subheadings that would summarize your article content nicely. Ideally, the reader of the article should understand what it is about by just scanning through the subheadings which should effectively summarize the article content while still encouraging the reader to go more indepth. Here's a short but sweet checklist for using subheadings for SEO and usability I did a couple of years ago.
Other important guidelines that (may) go in this section:
Make your sentences and paragraphs short (that makes the whole article easier to read)
Introduce your article effectively in the opening paragraphs and encourage a discussion in the conclusion (by asking some questions)
Adding Links
Links are always great (unless links are brutally self-serving and anchor-text-dirty). I always encourage all my authors include links to any app, business or person they are mentioning. Links are user-friendly, so in my guidelines I always prompt contributors to:
Link to relevant articles on my blog;
Link to others relevant articles elsewhere (as well as sources of information, apps, etc)
Normally link words (not image files or subheadings)
Always make sure they are using the full URL and the original "clean" link (now a shortened version, stripping all tracking parameters, etc).
If that's *guest posting* guidelines, consider also adding a caution against self-serving links in the content of your body. Here's a post that explains my attitude to them.
Lists
Including lists is also highly appreciated. A well-formatted list is likely to draw readers' attention and make them stay.
Sadly, contributors tend to format lists in all possible ways using -, *, or any other inappropriate symbols instead proper <ul><li> coding. Therefore it's a good idea to remind them of proper formatting here.
Images
Another very important element of any blog post. Images will never be added unless you clearly ask for them.
Here I specify the proper style and size of the images as well as encourage authors to include a relevant, catchy and properly attributed Creative Commons image.
If you find the guidelines useful or have any improvements to suggest, please comment below!
UPDATE: There's one great video one of our users has created that explains how to provide a clean HTML code for your article:
cc licensed ( BY SD ) flickr photo shared by mt 23
The following two tabs change content below.
I am the owner of this blog as well as Brand and Community Manager at Internet Marketing Ninjas and Founder of MyBlogGuest, MyBlogU and
ViralContentBee.com
Latest posts by Ann Smarty (see all)