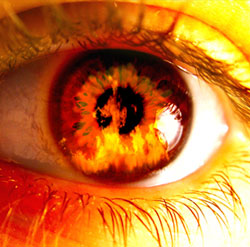 Your blogging style is up to you. I for one usually shy away from newly hot and trending topics for various reasons: firstly, I am not based in the USA and thus I am slow in learning what everyone says, secondly, seeing great coverage, I usually have hard time finding what to add.
And to tell you the truth, I come to realize this is a mistake. Trending topic coverage is GOLD. Oftentimes it never fails to engage existing readers and attract new ones no matter how well it has been covered before you.
Let me just share one personal example. Do you remember the time when Google started experimenting with "search within search" option allowing users to search within a popular site right from the initial SERPs? I didn't cover the news but my guest blogger did: and voila! I had tons of comments, trackbacks and even CNN coverage (journalists always look for bloggers' take on the trending topic)!
So no matter what your attitude towards blogging on what everyone blogs is, my advice would be: do it. Chances are that will bring you plenty of exposure, fans and links. The key of course is to make it right.
Now, how you actually track hot trends and choose the trending topic to cover is up to you, your niche and your purposes. Here's a quick helpful list of resources that might help you choose the right tool to do that:
The aim of this post is not to share how you spot the trends – it's how you cover them:
Stand Out: Provide Fresh (Unexpected) Perspective
Just covering the news won't give you much. It's your personal take (and a catchy title summarizing it) that would make you famous. Re-blogging news is not worth your time or effort – you may be lucky enough to make it to Google News and pop up in general search for a few hours (if you are in indexed in Google news) – but that's the maximum benefit you are likely to get (unless you were the first to cover the news which is almost impossible in today's world of instant information exchange).
This is why your unique perspective and catchy representation would be your chance to win:
Rant (if you are that type of the blogger which is good – I for one have never been good at ranting while plenty of people are building careers on ranting alone!)
Pose a question (contradicting the overall opinion);
Be sincere: your attempt to merely stand out by trying to arise artificial discussion would be noticed and mocked out. Do your homework: read lots of material, look for convincing examples, express your sincere point of view.
An example? With all that buzz around "Old Spice" commercials, a good contradiction would be a refresher. I am aware of only one article which instead of covering the campaign, posed a good question: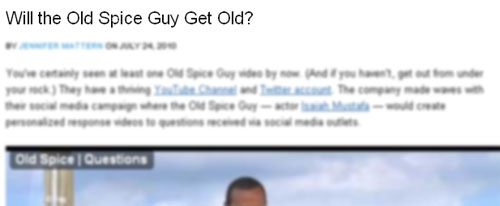 Time will show if this coverage will attract some media attention but I guess that was a worthwhile effort!
Link to Official Sources
I have a suspicion that that's how that guest post I mentioned above got noticed (but pst! That's a secret. The official story is that my blog is so awesome that CNN journalists read it regularly!): Rishil linked to the official post introducing the feature and the catchy title should have attracted eager minds who were looking for sources to cite in their own coverage:
So the killer tip here: ALWAYS link to the official source. Even if they don't list trackbacks, chances are they will notice your unique coverage from their traffic sources.
Same goes about your retweeting your coverage, always "tag" the official Twitter account as the source for them to see your tweet.
3. Get the Maximum SEO Benefit
If you are not one of powerful niche blogs covering some hot topical news, you have few chances to land your coverage on the first page of Google (even if you were (one of) the first bloggers to cover it).
Getting a bit tricky in terms of keyword selection to name your coverage will increase your chances though. You won't have to spend plenty of time researching which keywords people use to search for the news coverage. I suggest using just two free tools: Google Suggest and Google Insights.
Google Suggest accompanies your search, so it won't take you long to check it out. However if you need to go a bit more indepth (which will also get you inspired and help find more articles covering the story), try using this simply genius tool: Ubersuggest – it does the following:
Takes your base term and extracts Google suggestions for it,
Then attaches each letter of the alphabet to your base term and extracts Google suggestions for those as well.
At the end you get dozens of terms starting with your base term: see this file for [Old Spice +] results: ~250 possible angles for your coverage!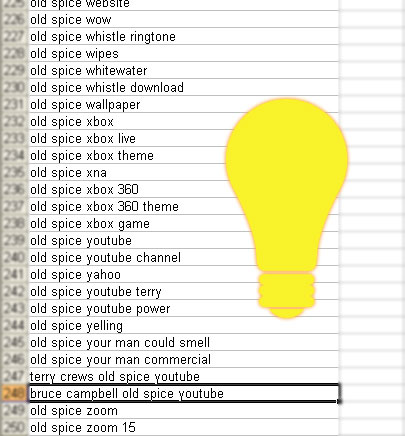 Google Insights is another source of coverage inspiration as well as keyword selection and expansion assistant. It is very easy to use, just search for your base term and scroll down to the "Search terms" section: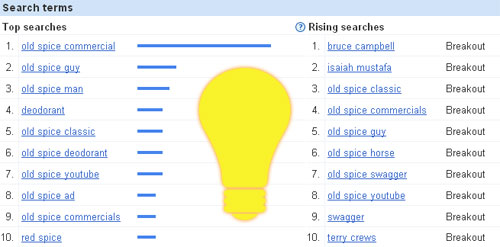 Also, if you plan to use the tool more extensively, here's a post on what Google Insights CANNOT do or cannot show.
Have you ever success with hot trend coverage? Please share your tips!
Post image is by key2day.blogspot.com
The following two tabs change content below.
I am Ann Smarty, owner of SEOsmarty.com. I've been in the SEO industry for two decades. I am the former Editor-in-Chief of Search Engine Journal and a contributor to Mashable. These days I am running Viral Content Bee and writing for Moz, Buzzsumo, Wix and many others!
Latest posts by Ann Smarty (see all)