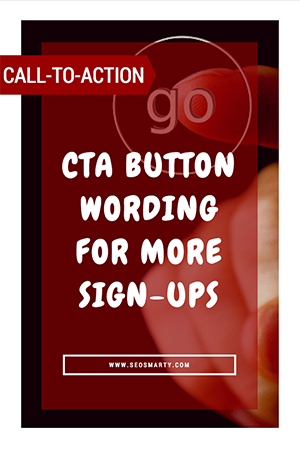 When social media platforms just started springing up, I remember many experts assuming social media would kill email marketing. In fact, the latter only got stronger…
Maintaining a loyal, active and steadily growing list is one of the strongest assets you can build: This is what can secure your business against various rankings fluctuations and emerging competitors.
Follow My Experiment
These months I am experimenting with my blog calls-to-actions (primarily for the sake of self-education but also to be able to share my results with my community and help others grow).
This article is my first step in the long-lasting experiment: Making the most of calls-to-actions.
While I think that A/B testing is important (and that's what I am already doing), pre-testing materials are even more important: This enables you to take what I've got and run your own tests because what may have worked on my site may be counter-efficient on yours. So take what I've collected below and run your own tests (and share them below!)
First a few things that have been covered pretty well already:
Now to different ways to word your call-to-action:
Call-to-Action Button Wording
Express Urgency
Have you ever contemplated buying something, and then thought to yourself "I'll think it over." The same thing may happen to your blog readers preventing them from taking an action.
Creating a sense of urgency gets users to take action immediately instead of holding off on the purchase. More often than not, tomorrow becomes eventually, which ends up being never. The sooner you can get people to take action, the better.
Here are some effective call-to-action phrases that will make people rush to grab what you're selling
Hurry
Get instant access
Join now
Or try adding words like these to your current CTA to experiment:
Here are more action triggers expressing urgency:
Only X days left
Closing soon
Today only
Last chance
Offer ends on "date"
Provide Clear Instruction
It's a well-known theory that if you want someone to perform some action, you'll get better results by telling them exactly what to do.
MarketingSherpa have tested it and found that "click here" link text increases click-through rates by more than 8%.
So this is something to test out:
Click here to subscribe
Subscribe by Email
Express the Sense of "Joining the Community"
Joining a group of people of common goals, feeling not alone is a powerful incentive, so this is something to try:
Be a part of
Be(come) a member
Join the team!
Instill the Feeling of Exclusivity / Win
Everyone wants to feel special, so this can be an effective action trigger:
Become a VIP (subscriber)
Join to the winning side
Non-commercial
I suspect this is a later trend: Web users are getting tired of commercial CTAs pressing you to sign up to something on each page they visit.
It makes sense to avoid boring your user with the same call-to-action they see everywhere else and offer them to "learn more". It invites the user to explore on his own without pressure.
Find out more
Learn more
More details
Get started
Get notified
Read it here!
I'd love updates
Tell me more
Explore more
Use Imperative Mode
Giving your readers the power to command instead of being instructed: It may work well for the certain types of readers (I know it would probably work well for me!)
Send Guide!
Send Videos!
Send Checklist!
Show me the data
Get my report
Take me there
Let me in
Send the Recipe
Try Emotional Wording
These don't fall into a particular category but many of them are worth testing… Also some of them may match the tone of your site better than the others:
I want in!
Let's do it
Yes, please!
Yes, I'd like to learn more
Sure thing!
I want to increase my traffic
I'm Ready
Let's Party
I'm a rockstar
What's the secret
Mom's Only
Okie, Dokie
Get it While It's Hot
Kick fear to the curb
See for yourself!
Count me in
Get it!
Discover the benefits
Power words
Finally, here are some words you may want to add to your current button to see if any yields more action:
Free
New
Now
Guarantee
Results
My (There's a study showing that "my" work better than "your")
Download All the CTA Button Variations!
Grab your free download here and play around:
More things to test…
Action Triggers to Use Near the Button:
Don't miss your chance
You can't "win" if you don't play
This terrific offer won't last long
Years from now you'll say coulda, woulda, shoulda if you don't subscribe today
Those who hesitate are lost
Some might look at this offer and ask, Why? We say to you, Why not?
You won't know what you're missing if you pass up this chance
'Tis a far, far better thing if you subscribe now
(More on these in my next article, please do submit the ones that work for you here)
An interesting tactic I see more and more recently is to add a "cancel" button and phrase it the way it acts like an action trigger:
No I am happy with my current rankings

No I don't want to make more income
Title Case or Not?
I couldn't find good case studies id the CTA should be capitalized or not. Two arguments to consider:
Title case can make your button label feel like a command. Hence, capitalization may make it stand out, it may make your CTA more convincing
For longer CTAs, sentence case can make your button text feel like a dialogue, thus more friendly.
Which one do YOU prefer?
Two-Step Optins
Some marketers prefer to use two-step opt-ins (using the same plugin), so the CTA simply says 'Get the free report' (no email field), and this then takes you to a second screen where you enter the email address.
The theory is they have said yes once, before you ask for their address so they are more bought-in, and ready to give it.
A Few Helpful Case Studies Already Done
How YOU Can Contribute
Thanks to my helpful MyBlogU contributors who suggested CTA button wording variations below: @irinaweber048 of SE Ranking, @SakaneeJ of Blogging Aid, @Amabaie of THGM ghostwriters, @JKatzaman largofinancialservices.com, Brightsidesmktg, @N8hanWilliams of Crazy Eye Marketing, @JEAlford, @northresearch of Myth Buster, @DIYMarketers DIY Marketers, @seotify Seotify, @duggansara of Sara Duggan | Blogger's Assistant, @EP_pturner of MaXXers, @websuccess Web Success Team, @Laura_Rike of Envizion Advertising, @SeegerN of Seeger Consulting Inc., @timfel of TimFelmingham.com
The following two tabs change content below.
I am Ann Smarty, owner of SEOsmarty.com. I've been in the SEO industry for two decades. I am the former Editor-in-Chief of Search Engine Journal and a contributor to Mashable. These days I am running Viral Content Bee and writing for Moz, Buzzsumo, Wix and many others!
Latest posts by Ann Smarty (see all)