I am not that good at ranting. I don't believe in SEO outing or spreading SEO FUD.
Today's post is not a rant though. It's a question.
A quick intro: since Google started cracking down on (huge) companies that have been accumulating links for ages, I am getting occasional requests to remove links here and there.
I have never sold a single link in my life, so all the links I am asked to remove are quite natural and authentic. But I am not the one to teach. If they want their links removed, sure, I do that.
Then one thing happened that got me asking: "Am I not allowed to link to other sites? I mean legally".
One of my sites is hosted by BlueHost and a few days ago I got the following notice of alleged infringement on that website from them: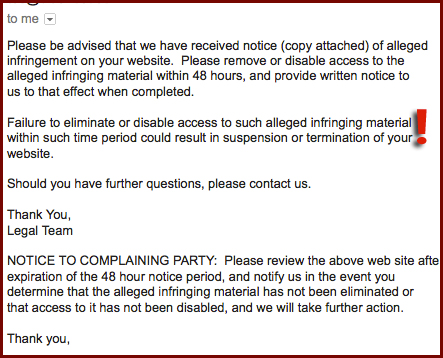 Wow. Of course, some misunderstandings may happen. I thought that was about an image I (or one of my contributors) may have used or some copied content.
But no. That was about the link: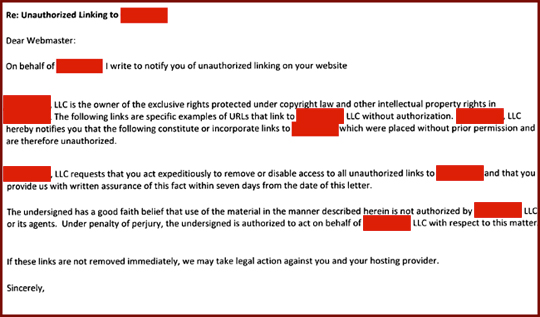 (Click for a larger version that broke my theme)
So yes, I linked to the company quoting the source, right inside the article with no "dirty" anchor text (actually I linked their name when quoting the source of the stats in the article).
So my question is: what does "unauthorized" link mean? Should I ask for permission to link to each time I want to link?
The following links are specific examples of URLs that link to [company name] without authorization. [Company name] hereby notifies you that the following constitute and incorporate links to [company name] which were placed without prior permission and are therefore unauthorized.
What are your thoughts?
P.S. I removed that link because BlueHost was threatening to close my site and because I was not sure if I was right or not.
P.S. The company in question is really a huge one. I am not outing their name because, again, I don't believe it's the right thing to do.
More Legal Precedents:
Links & Law; Information about legal aspects of hyperlinks (surface and deep links), inline links and frames.
Canadian Court Says No Copyright Infringement For Linking
More Reading on Similar Issues:
(or the death of the World Wide WEB)
And now the whole collection of TOS: "no one may hyperlink this site"
The following two tabs change content below.
I am Ann Smarty, owner of SEOsmarty.com. I've been in the SEO industry for two decades. I am the former Editor-in-Chief of Search Engine Journal and a contributor to Mashable. These days I am running Viral Content Bee and writing for Moz, Buzzsumo, Wix and many others!
Latest posts by Ann Smarty (see all)