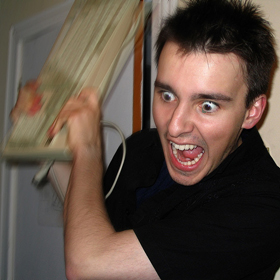 Ann's note: The following is a guest post by Jeff McIntire-Strasburg of sustainablog. It's a great follow-up to my previous post The Guest Blogging Fails: Again (Video + Infographic). It's also a great example of what pushes people off guest blogging and why.
Let's not let the spammers win! Let's stop the guest blogging spam!
What's not to like about a high-quality guest post? For the price of a link or two, you get well-written, authoritative content. You get to diversify not just the voice, but also the range of topics covered, on your blog. You get to take a bit of break: editing a good piece is usually much easier than writing one yourself.
With all of those advantages, you'd think I'd be soliciting guest posts like crazy. Instead, after a lot of thought, I decided to take down the guest posting page at my site. While the good guest post submissions I receive do provide value for my audience and me, poorly conceived and written pitches and posts eat up my time… and I'm receiving a whole lot more of the latter.
When I put the page up, I assumed it would attract professional pitches and posts from knowledgeable content creators. I knew that many of these pitches would come from marketers, but thought certain they'd  want to build a long-term relationship with an established site, and send me well-written, thoughtful content that I'd be thrilled to share with my readers. In a few cases, I've received those high-quality pitches and posts; in many, many others, I've been proven woefully wrong in my assumptions. More often than not, I've gotten:
Untargeted, spammy pitches: If a pitch for a guest post starts off with "Dear webmaster," or just "Hi!" you've already lost me – my name was listed with my email address on the guest posting page. Additionally, if you mention potential topics that are totally unrelated to my site, I'm going to assume that you've found my contact information through a little creative Googling focused strictly on the term "guest post," and promptly delete your pitch.
Pitches from people who haven't spent any time on my blog: Even when they find my name, that doesn't mean that someone pitching me has actually read my blog, or knows anything about the sustainability space online. That usually becomes clear when they throw out a topic or two… and they're topics that have been done to death either on my site, or on others in the vertical. I don't expect every potential guest writer to be a regular reader; I do expect that s/he knows how to use the search box that appears on every page of my site. Similarly, I know that every marketer won't be up on the very latest in the sustainability space, but just a little browsing through blogs in the space will give him/her a sense of what's hot… and what's not.
Really poorly written posts: I am a former English professor; I don't, however, wear that hat when I'm considering a guest post for publication. Still, I do expect basic command of grammar and style, as well as a unique voice. If I have to spend more time editing (or requesting revisions) than it takes me to write a post myself, I'll likely just do the latter. If you've farmed the writing of a post out to a "writer" who works for cheap and doesn't have a full command of the English language, I'm probably not going to publish it.  I don't care who did the actual writing, but I don't want to have to spend a lot of my own time correcting errors.
Intellectual property problems: Links aren't just votes in Google: they're also the means by which a web writer cites his/her sources. So when I see a fact-filled post with no links, I'm immediately suspicious about the quality of the research a writer did. I want to know that the information I'm sharing with my readers is from legitimate sources, and links tell me that. On the other hand, though, a link back doesn't justify grabbing an image from a publication that uses traditional copyright: without a Creative Commons or other alternative license, publishing an image can constitute theft of intellectual property. Needless to say, I don't need those kinds of hassles.
I know that guest posting has become a popular tactic in the linkbuilding community; I've done it myself for that reason. But blogs don't exist just to hand our links: publishers have audiences (and often advertisers) to serve, and poorly focused and written content doesn't do that. If you want a link from my site (and, yes, I do have a PR 7), you need to earn it by providing me with carefully-crafted content that serves my audience… period.
For the time being, I will still accept guest posts… but primarily only from writers I know and trust to provide me with the kind of work that I'm proud to associate with my blog's brand. If you're thinking about pitching me (or any other established blog), go ahead – just make sure that you're focused on submitting a post that's valuable, relevant, and well-written. That's what I'll publish.
Jeff McIntire-Strasburg is the founder and editor of sustainablog.
Image credit: JPDaigle via photo pin cc
The following two tabs change content below.
Contributor
SEOsmarty.com accepts random contributions from close friends
Latest posts by Contributor (see all)