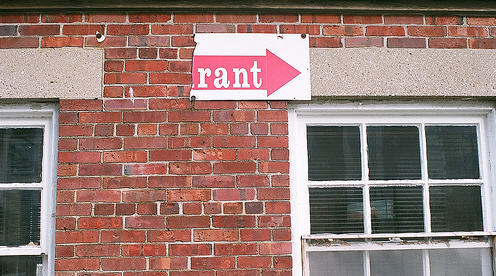 While Tom over at SEOmoz posted a must-read piece on negative reputation, its types and ways to deal with it (like SERPs monitoring, social media monitoring, etc), I decided to add my two cents here discussing a few online services that encourage spreading negative reputation over the Internet.
The websites discussed offer anyone anonymously to post a rant on other people or companies – be it a former boyfriend or a place of work. For some reason these services keep popping up quickly and that's a complex question if that's for good or worse. It seems so complex because:
these services allow you to take revenge on anyone who offended or hurt you if you have no other way to struggle (if revenge is a good or a bad thing – that's for you to decide);
these services allow a dissatisfied customer/ employee to warn others of the poor service – also accounting for the new era of reputation management and customer care (but who will protect merchants and companies from the ungrounded/ false/ deceptive accusations? After all, like always, only minor (probably innocent) players will be affected – huge companies will find the way to counteract).
Disclaimer: before listing some of these services, let me disclose that I do not encourage or discourage anyone to use them. Besides, I am not linking to any of them, as, like I said, I am not sure if they should exist.
DontDateHimGirl.com is an online community of women offended by their boyfriends. The website (among other services) allow women to post the name and the story of the "cheater".
It is worth to mention (and I do like the feature) that the service invites anyone to post a rebuttal – though I wasn't able to find any and not sure how it can influence the initial rant; my guess is, it will still appear both on site and search engine results.
Anyway, to be completely honest, the site is not too good for rankings:
it seldom appears on the first page for the [Cheater Name] search;
it doesn't use the man's name in the page title (and hence the title of the search result).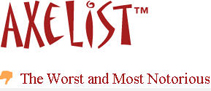 Axelist.com invites to share negative experience with any kind of possible contacts: bosses, cheaters, racists, business partners, liars, co-workers, tenants, employees, dates, debtors, politicians, teachers, stock promoters, stockbrokers, realtors, bullies, doctors, neighbors, etc.
Apart from the detailed complaint, the website provides some of offenders' details: their age and location. The site explains its benefits the following way:
"File your complaint and watch Axelist expose and put your villain on the spot. We will post and promote your story and even go beyond the Internet to help you make your case."
While the site could have done a better SEO job, it does have some ranking ability: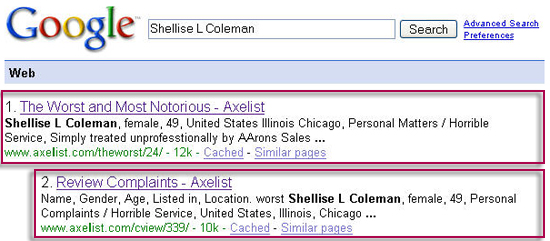 JobVent.com invites people to post negative (and positive) experience on their job allowing thus for affective discharge and also warning people who are going to start a new job.
They do have very interesting posting guidelines that attempt to encourage offended people to be as fair as they can. Among others, the rules state that:
no company deserves the lowest ratings in every category;
negative ratings should be adequately grounded;
profanity is not allowed;
no names or initials, just company name;
each company can be reviewed only once by one individual.
While I couldn't find any first-page rankings for the [company name] – obviously due to the fact that [company name] has much higher competition than [personal name] – but the site does rank fairly well for some combinations of [company name] + [job]:

To be perfectly fair:
none of the above services were designed for negative reputation management (hence poor on-site SEO btw);
each of the above services encourages fair ratings and true stories.
Closing: I may be sounding skeptical about the whole negative reputation thing and to tell you the truth, I am not sure myself what my attitude to it is. As a customer, I would really want to be timely warned of a bad service or product. As an active Internet user, I do realize that Internet is the place of unfair judgments, misunderstandings and manipulation; the place where people are often unfairly treated (let along if they are invited to rant), the place where online argument looks like this: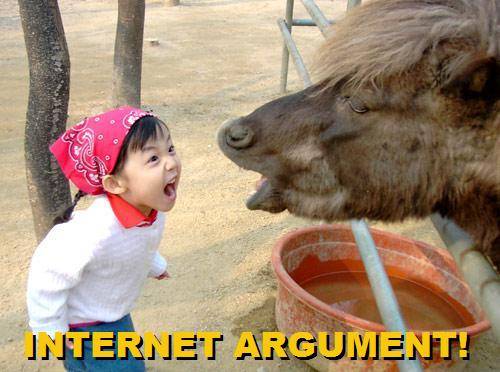 Post images: Internet argument and RANT, this way
The following two tabs change content below.
I am the owner of this blog as well as Brand and Community Manager at Internet Marketing Ninjas and Founder of MyBlogGuest, MyBlogU and
ViralContentBee.com
Latest posts by Ann Smarty (see all)