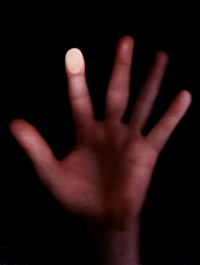 Ok, before you start calling me a spammer or anything like that, I'll say there may be totally legit reasons why you would want to keep several online identities, for example:
You may want to separate business life from your personal life (really having your husband/wife and your clients on same Facebook account may be tedious);
You don't want your partners and clients to know about your other projects (why would I want the SEO world to know that I own a creepy celebrity blog on blogspot and promote it on Myspace… and no, you don't want to see that Myspace page!).
You know me as Ann Smarty, that's my SEO pseudonym, and if you search this name on Google you will see only my professional profiles, professional comments and professional articles. But my SEO business is only part of my Internet life and I don't want you to know (trust me, you don't want to know that either:)) what stuff I stumble from my "private" StumbleUpon account and what comments I leave (or used to leave) on fellow Myspace profiles.
OK, I guess now you are intrigued to know that but that's not the point.
The point is that if you want to live several online lives, that's totally OK and here are some tools for that (yes, there are tools for that either!)
Create several FireFox profiles:
Imagine you can run several FireFox profiles simultaneously and be logged in to various profiles there at a time (again, this is not (only) for spamming). For example: you have one for stumbling professional sites and one for other fun stuff you don't want people to know you like it.
I did a detailed post on how to do create several FireFox profiles previously and here's a quick recap:
Exit FireFox;
(Windows) Go: "Start" button => "Run" => Type "firefox.exe -ProfileManager" => "OK" button;
Click "Create" in a profile manager and choose the name for your new profile, then click "Start FireFox";
Repeat steps 1-3 to create as many profiles as you want;
Done! Now each time you want to switch to another profile or change the default profile, repeat steps 1-2 and choose the one you want.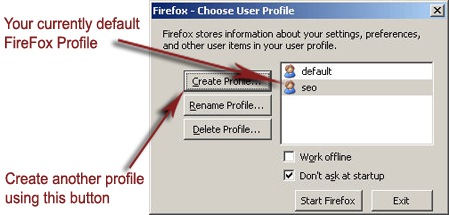 Install this sweet FireFox extension to quickly switch between profiles.
Now save different sets of social media profiles on different profiles.
Quick tip: I name my FireFox profile same as my social media moniker I want this profile for.
Use multiprotocol instant messaging application
If you have several IMs installed or even various accounts on each one for various groups of your friends, you can connect them all in one handy utility.
DigsBy is by far my favorite such application because it connects so many IMs and social networks that you can hardly think of any suggested feature for it. Find inside:
IMs: GTalk, AIM, Yahoo! Messenger, Facebook chat;
Email notifications: Gmail, Yahoo, Hotmail, AOL mail;
Social networks: Twitter, Facebook, LinkedIn, MySpace.
My favorite features of the app are:
For each social network add as many accounts as you want;
Sort Gtalk (and other) contacts into groups (!);
Set tracking for any GTalk buddy: e.g. get notified when some person signs in or changes the status message;
Manage multiple conversations with tabbed conversation windows;
Set your Facebook, Twitter and LinkedIn status right from Digsby.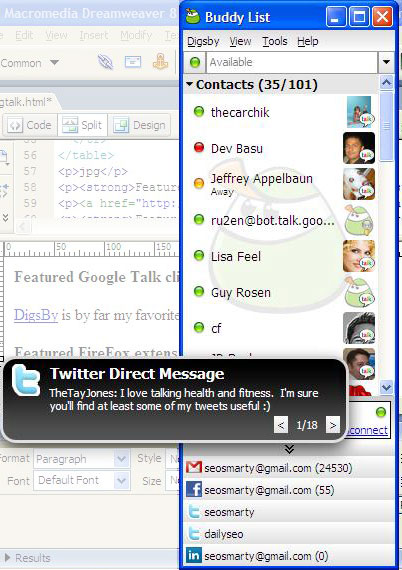 Use some extra tools to make your parallel lives easier:
This script

makes it easy to switch between multiple Gmail accounts. It is pretty fast and can make my life much easier.
Use temporal email address to sign up: most sites require an email address to sign up. If you do not care about their updates, just use any temporal address for quicker registration;
I thought of adding a few tips on IP switching but then thought I'd look like a complete spammer in that case. So I'll just stop here, hope I managed to do that before you thought I was a jerk and just left this site for good.
Post image by SideLong
The following two tabs change content below.
I am Ann Smarty, owner of SEOsmarty.com. I've been in the SEO industry for two decades. I am the former Editor-in-Chief of Search Engine Journal and a contributor to Mashable. These days I am running Viral Content Bee and writing for Moz, Buzzsumo, Wix and many others!
Latest posts by Ann Smarty (see all)