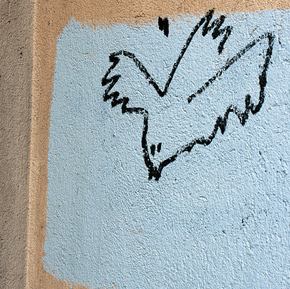 I know, I know, that sounds so awfully familiar. But this post is *not* about using your keywords in title tags. We've talked enough about title tag SEO (and most of those old tips still apply btw!)
Today's post is about making your title tags retweet-friendly, about encouraging Twitter comments and making it to Twitter trends.
1. Simple Mathematics
This one is pretty simple and obvious: be short, be catchy.
We only have as many as 140 characters to fit the title + URL + your credit to the twit without it to be stripped. And the more character are left, the more flexibility your promoters have!
See:
The (shortened) URL of the tweet will contain minimum 13 characters.

Now add your Twitter handle that follows the tweet: at least 7-8 characters (mine is 10 including @) + 3 characters for RT

Now add your post title (for example, this post would result in 45 characters and it is not long at all!)

What do we have now?

13+10+3+45=71 (min!)

Thus your most valued readers and promoters have maximum 69 characters to share their thoughts, ask for RTs, include references, etc

And remember that Tweets containing personal comments and feedback are the ones that get the largest number of retweets, shares and other types of interaction. And the shorter your post title ( that gets grabbed by the Twitter button and turned into the Tweet), the higher probability is that the reader will want to add a comment.
Look how much your readers can do if they have character-flexibility!
They might add a call-to-action (which means more clicks!)
They might add hashtags (which means wider reach!)
They might add comments (which means more retweets!)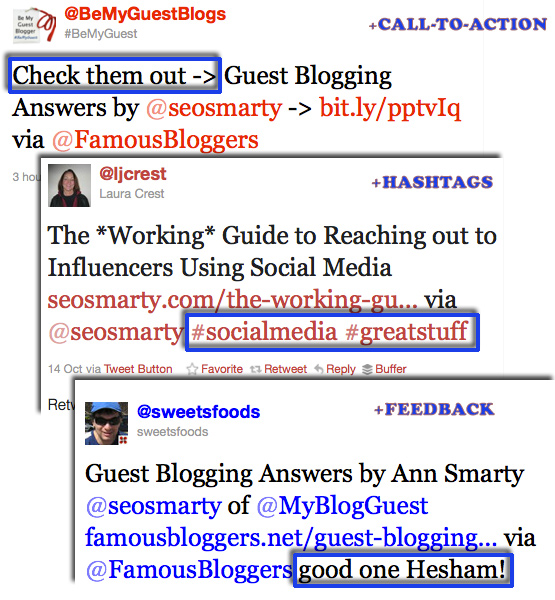 So make your readers' lives easier: make it easy for them to tweet, retweet and tweet-comment your blog updates!
****If you plan a linkbait, make sure to come up with the shortest title possible while keeping it catchy and original (that's obviously hard but very essential).
| | |
| --- | --- |
| Old Question: | Old Answer |
| How long should the title tag be for it not to be stripped in Google search results? | 64-70 characters |
| New Question | New Answer |
| How long should the title tag be for it the post to be shared on Twitter? | The shorter, the better |
**** Another bright idea: Would you like more Tweet-comments (Tweets of your post that contain a personal comment)? Ask a question in your title.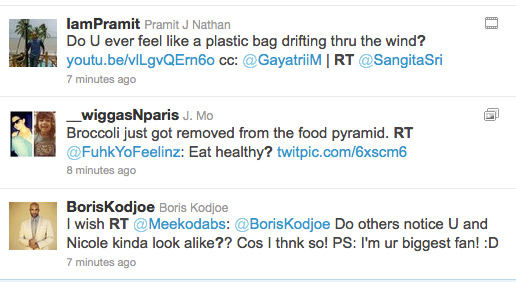 2. Using @ and # in the Title Tag
One Golden lesson in branding: when blogging about your business or event, don't forget to use @your-business-handle or #youreventhashtag in the title tag.
This way, they are most likely to make it to the tweet (even if the Twitter user will *not* use your Twitter button, and will Tweet through his browser tools or even copy-paste instead!) and if you are lucky enough will make the daily Twitter trend!
Example:

An SEO WordPress plugin (like wpSEO) that allows to set a custom title tag for each particular post works great for that:

Results in this:
Question:
Old Answer

Should you add your brand name at the end of your title tags sitewide?
Yes, that works well for branding.
New Answer
If your Twitter handle is short, it's probably wiser to use it instead
You can actually go even further and use hashtags to brand important sections of your site. For example, instead of "SEOmoz QA", this could be
@SEOmoz #QA
Which could result in a much more interesting Tweet: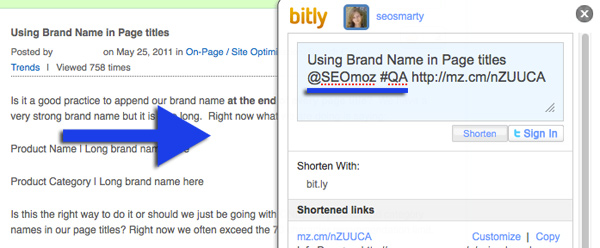 ****(Again: This way @SEOmoz makes it to the tweet even when a user doesn't use your button but instead creates a tweet using Bit.ly bookmarklet, HootSuite button, etc).
As for Google search results branding, that doesn't hurt at all, as Google doesn't care if it's a hashtag, a Twitter @username or a word.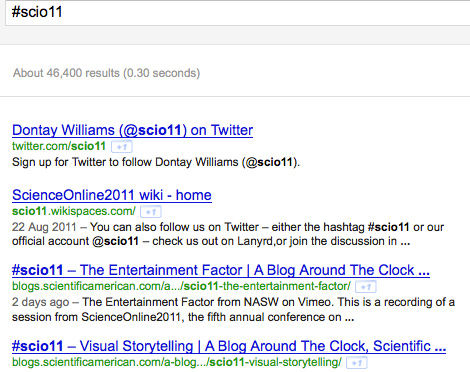 Quick common sense note: While using hashtags and Twitter usernames may be a bright idea in some instances, you don't want to overdo with it. I'd suggest experimenting with it only for social-media-essential parts of your sites, for even-specific and brand-focused pages or articles, etc.
Takeaways:
The shorter your title tag is, the easier it will be for your readers to add a short personal comments in a Tweet (which usually results in much more Twitter interaction)
If you need more feedback and comments in a Tweet, make your title in a question format
If you need more exposure for your official Twitter profile or hashtag, include it in the title tag
Now, what is your experience? I am sure you've been playing with blog post titles a lot and couldn't help noticing its impact on social media shares. Let me know your opinion!
cc licensed ( BY SD ) flickr photo shared by quinn.anya
The following two tabs change content below.
I am the owner of this blog as well as Brand and Community Manager at Internet Marketing Ninjas and Founder of MyBlogGuest, MyBlogU and
ViralContentBee.com
Latest posts by Ann Smarty (see all)