This post is courtesy of my fellow Mozzer – Rishil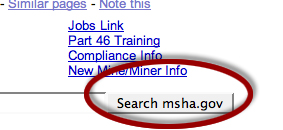 Last week Google revealed search within search (officially called teleportation) although it's come as a surprise to quite a few people, its been in the test mode since 2006. The purpose is to enhance user experience and the "ikelihood of finding the exact page they are looking for". Great stuff.
However
This may have issues for those who heavily invest in their brand by protecting them via trademarks etc. How? Well observe the scenario below:
I want to book a holiday, and in particular I want to go to Florida, and I want to go in March.
I have seen huge amounts of advertising, both off line and online about great offers that Virgin Holidays have planned for March.
I am from the "google generation" and believe in using Google for any site that I want to get to.
So off I go to Google to search for "Virgin Holidays":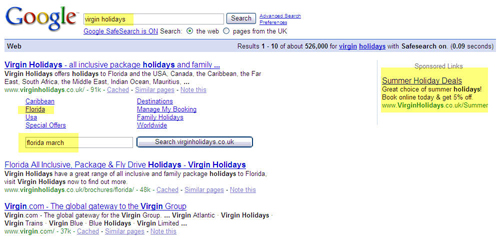 Notice the highlighted Results:
The exact term "Virgin Holidays" I used.
Right hand "PPC by Virgin" only their result as the key phrase is trademarked.
Notice the site link Florida which is actually my main intention.
The search in search box – where I have typed in my intended long tail "Florida March".
All the above points 1-3 are great results for a brand.
No. 4 is the worry – but before I take you there – see where I would have landed had I clicked on the first result – the main site URL: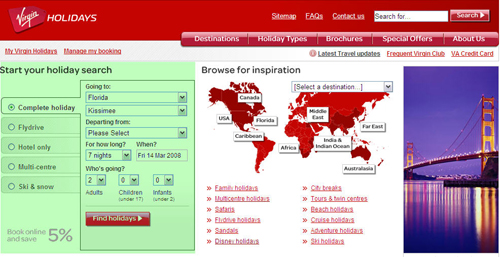 The green highlighted section is the main target area, where I would refine my search – with the exact dates and requirements.
Great for converting business.
What if I had clicked on the site link "Florida"? :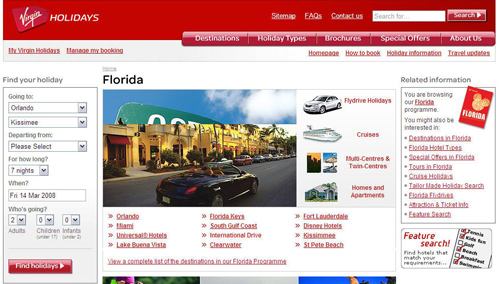 Once again – great content, and excellent for conversion.
But what if I had used the Search in Search?
Using my target long tail "Florida March":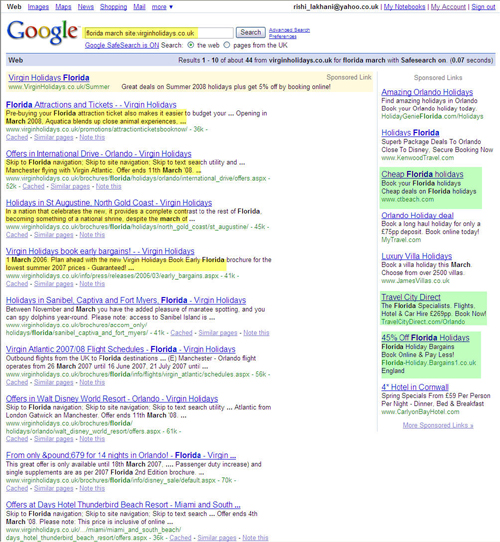 This is what I see:
Yellow Highlights –
First three results – not relevant.
Fourth result – too old.
Now here's the crux, apart from seeing non relevant results, I also see Paid Adverts on the right hand side (green highlights), none of which are Virgin Holidays. The highlighted PPC listings are actually eye catching because of the use of target keywords and the use of keywords such as "bargains", "Cheap" etc.
I was tempted to click on those results and scout around to see if they would indeed secure me a better offer.
For a brand owner, this means that using the Site in Site journey, I as a consumer, was put off the Brands subsequent results, while simultaneously turned on to competitors.
I don't want to issue a series of points to counter or balance this activity – just wanted to look at it from a consumer journey in relation to a Brand and the effect the teleportation effect may have on the Brands conversion.
The following two tabs change content below.
Contributor
SEOsmarty.com accepts random contributions from close friends
Latest posts by Contributor (see all)