Meet MBG Tracker: The Simplest and Cheapest Way to Monitor Your Backlinks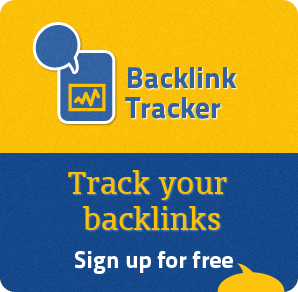 One of the most frequent issues we have faced at our guest blogging platform is the deleted / "nofollowed" links (or articles). Imagine the disappointment: you have spent time and effort creating a good post and had it placed at a good blog to then discover that your author byline (together with your links) or your whole post was removed. Unfortunately, this can happen very often for various reasons:
Blogs can get neglected, domains expired (with the new owner creating new content for it);
Blogs can be redesigned (and the author bylines may be forgotten);
New "SEO" plugins can be installed and all blog external links nofollowed (I can't imagine who could recommend bloggers installing these stupid plugins and why, but that does happen very often!)
etc. etc.
While we of course don't guarantee all the guest posts will remain intact for the life being (we are community after all, we only help to connect; we can't promise anything like that won't happen), we do our best to alert our users if any of the articles or links were removed and even help them handle the situation.
Here's how the MyBlogGuest Tracker was born. It tracks all links in the guest posts placed through the Articles Gallery and alerts the authors if anything strange is going on (for example, the site is down, redesigned, etc).
The author can then go ahead and contact the blog owner, and in most cases the problem is fixed very quickly. Even if the article was removed on purpose (for any reasons) and the blog owner refuses to put it back, the author will still be able to use the removed article again and let other blog have it (this way the content creation effort won;t be wasted).
We have had great feedback on this tool and decided to launch it as a standalone app.
***So welcome my next little project: Guest Blogging and Link Tracking Tool!***
The tool is brand new, still in alpha but you can go ahead and play with it. Mind that the tool does require considerable hosting and development costs, so it's paid but very cheap (for now all we really need is to cover expenses).
How Does the Backlink Monitoring Tool Work?
We probably don't do anything new, but we are the cheapest and simplest alternative I am aware of:
Receive instant emails if any of your links were removed or nofollowed;
Track your guest post social popularity (Likes and Tweets)
Measure traffic from each of your guest posts (for that you'll need to install a tracking code)
Identify most efficient backlink sources (for example, to find places where you can guest post again).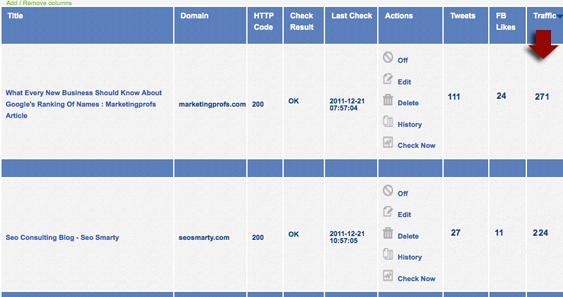 To start tracking your guest posts or links, you'll need to create a new project and specify your base URL. For all pages you add within one project, this very base URL will be monitored automatically (even if you don't specify which link within a given page you want to track).
You can add / remove columns from the table (to adjust a clearer view) and sort by each column. You will also receive weekly summaries of your missing links and most popular link sources.
Please try the tool and let me know where we can improve it. We love feedback!
I will add your suggestions to our TO-DO list below:
Upcoming Features (our TO-DO list)
Guest Post Widget (we have one within MyBlogGuest): a highly customizable, easily installed widget to easily share your recent guest posts on your own blog (something you see here in the sidebar)
A Customizable .PDF Export: I do track all the placed guest posts fro my clients and I think our users may want to add that service as well. With our tool this will be an included bonus!
More to Come!
***Test the tool here***
The following two tabs change content below.
I am the owner of this blog and founder of MyBlogGuest.com
Latest posts by Ann Smarty (see all)